What Makes KiDs Beach Club® Unique?
KiDs Beach Club® is a multi-dimensional ministry that serves as a bridge between churches and schools. Every element of KiDs Beach Club® fosters positive relationships and establishes ongoing partnerships between churches and schools to benefit the whole community.
Search Institute has identified "40 Developmental Assets" as building blocks of healthy development that help young people grow up healthy, caring and responsible. KiDs Beach Club® helps kids in many of these areas!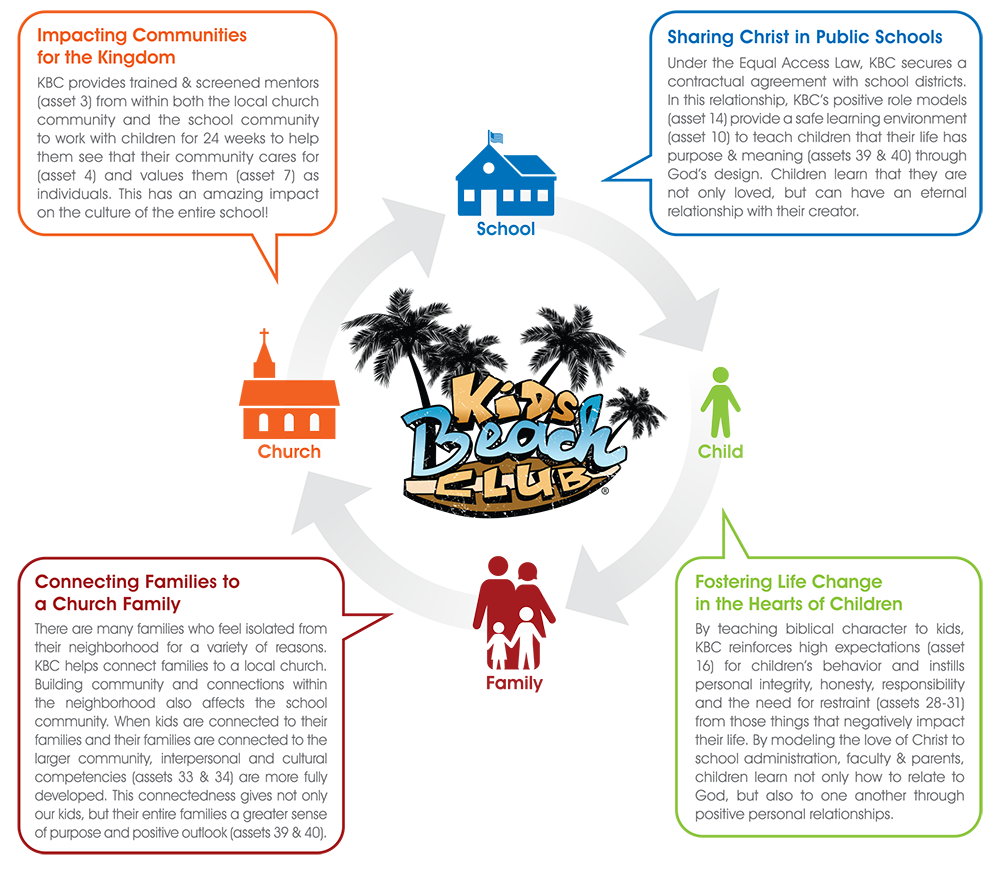 Experience the KiDs Beach Club® Difference
| | |
| --- | --- |
| | Church + School Partnerships |
• KBC highly values churches & education
• KBC facilitates relationships between churches & schools
• Beach Clubs only operate with a partnering church & a neighborhood school working together
• KBC trains volunteers to build lasting relationships with school administration, kids & families
• KBC volunteers come from both church & school
• Volunteers serve in mentor-type relationships benefiting public school kids



| | |
| --- | --- |
| | Teaches Biblical Character |
• Reinforces character words taught in schools
• Emphasizes the character of God
• Uses the Bible as the plumb line for character
| | |
| --- | --- |
| | Spiritually Responsible |
• Age appropriate Gospel presentations designed for preteens
• Gospel explained responsibly, accurately and without pressure
| | |
| --- | --- |
| | Preteen Focused |
• For 3rd through 6th-grade boys & girls
• 24 lessons written with 5th-grade boy in mind
• Student centered; engages the whole child
| | |
| --- | --- |
| | Energetic, Customizable Lessons |
• High energy teaching plan
• Multiple movement activities in each lesson
• Clubs reflect the partner church culture, such as worship music selection
• Activity options offered
| | |
| --- | --- |
| | Large Group/Small Group Model |
• Large group teaching facilitated through Surf Teams (small groups)
• Surf Team leaders build personal relationships with a small group of kids for one hour per week for 24 weeks
• Maximum one leader for every 10 kids
| | |
| --- | --- |
| | Volunteers Screened & Trained |
• 100 percent training in child protection & safety
• All volunteers screened with national background checks, including sex offender searches
• KBC staff supervise club quality with regular club visits
• Regular regional training events for club volunteers
• Customizable training provided for individual clubs as needed
| | |
| --- | --- |
| | Safe, Legal, Insured |
• Operates under legal parameters as permitted by the Equal Access Law
• Volunteer screening & training
• $1 million liability insurance policy for kids & volunteers while in club
• Lease agreements with school districts secured for 24 weeks during the school year
| | |
| --- | --- |
| | Personalized Service |
• Local KBC field staff representatives are paid KBC staff
• Corporate KBC staff serves in support role for partnering churches