Your Gifts Help Impact Kids in Eternal Way
It has been an honor to work with you in 2019. Your loyalty and commitment to quality and excellence has helped KiDs Beach Club® grow in three key areas this year. The number of partnering churches is at an all-time high, which has allowed more after-school Bible clubs in more states than ever before.
While we are excited to be starting 2020 with more than 200 Beach Clubs in 11 states, KiDs Beach Club® has positioned itself for unprecedented growth with a challenging and exciting five-year strategic growth plan called ENVISION2k25. This will allow us to move from an addition ministry that adds a couple dozen new Beach Clubs each year to a multiplication ministry that adds hundreds of new Beach Clubs annually to equip 25,000 volunteers to impact 100,000 students in 2,000 communities on a weekly basis by January 2025.
That is a kingdom-sized impact!
With all the pieces being put into place for the first year of this plan, we will be increasing our capacity, resourcing our team and opening new markets, which all will rely on us to grow our partnership with you.
Today, we embark on our year-end giving campaign. Our goal is to raise $120,000 by December 31 so we can launch ENVISION2k25 in January. We can't do it without your help!
We're reaching out to you because you've already demonstrated your commitment and compassion for our ministry to mobilize the church to go outside its walls to take the message of Jesus Christ into the heart of its community. Would you be willing to make a special year-end contribution to help us reach our goal and kickoff ENVISION2k25?
With your support, we can impact our communities in an eternal way.
Please join us by making your year-end gift by sending a check in the enclosed envelope, donating online by clicking the green "Donate Today" link on this page or simply by texting "KBC" to 345-345. A little lower on this page, is an opportunity for you or your company to become a sponsor for our annual Bibles for Beach Club Benefit Dinner, which will take place April 24, 2020 at Texas Motor Speedway.
Thank you for your continued support. We hope you are as excited as we are as we move forward in 2020 and increase our partnership with you!
Benefit Dinner Sponsorship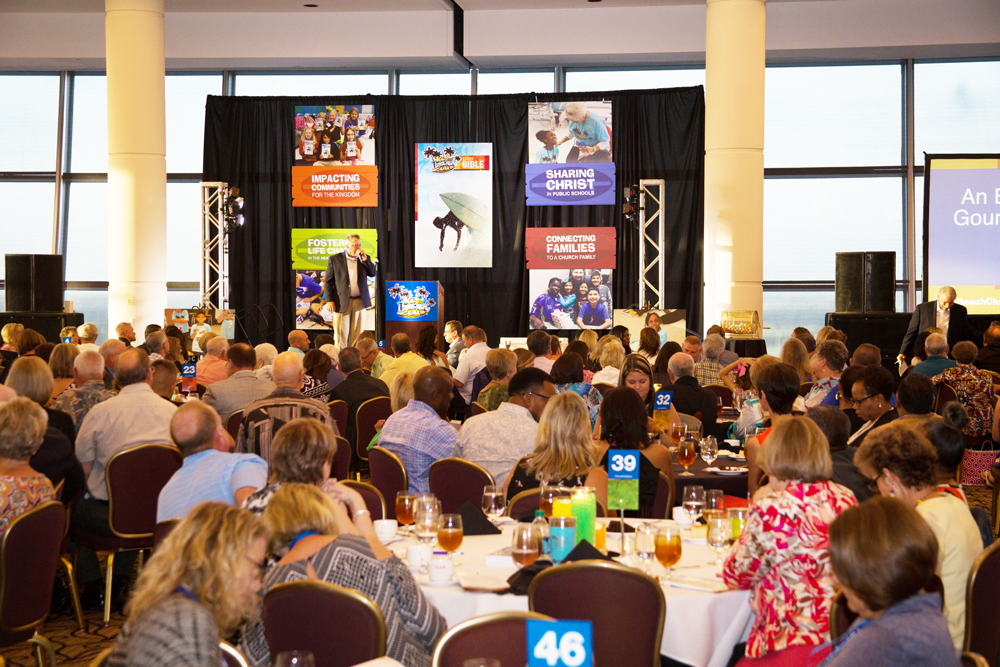 Our annual Bibles for Beach Club Benefit Dinner will be held Friday, April 24, 2020 at Texas Motor Speedway. We have several sponsorship opportunities for the event and hope you will considering partnering with us in this way. All sponsorships include mention in the event program, signage inside the ballroom and your logo on Big Hoss, the world's largest HD television screen, and of course, seats at the dinner.
A sponsorship of the Bibles for Beach Club Benefit Dinner is a great way to publicize your business to our audience. More than 500 people have attended past dinners at Texas Motor Speedway.

Available Sponsorships
Event Lead: $50,000
Platinum: $25,000
Gold: $10,000
Silver: $5,000
Bronze: $2,500
Table: $800
Click Here to View Sponsor Booklet

For more information about becoming a sponsor, please contact KBC Vice President Dave Crome at dcrome@kbcmail.org.