What Others Are Saying about KiDs Beach Club®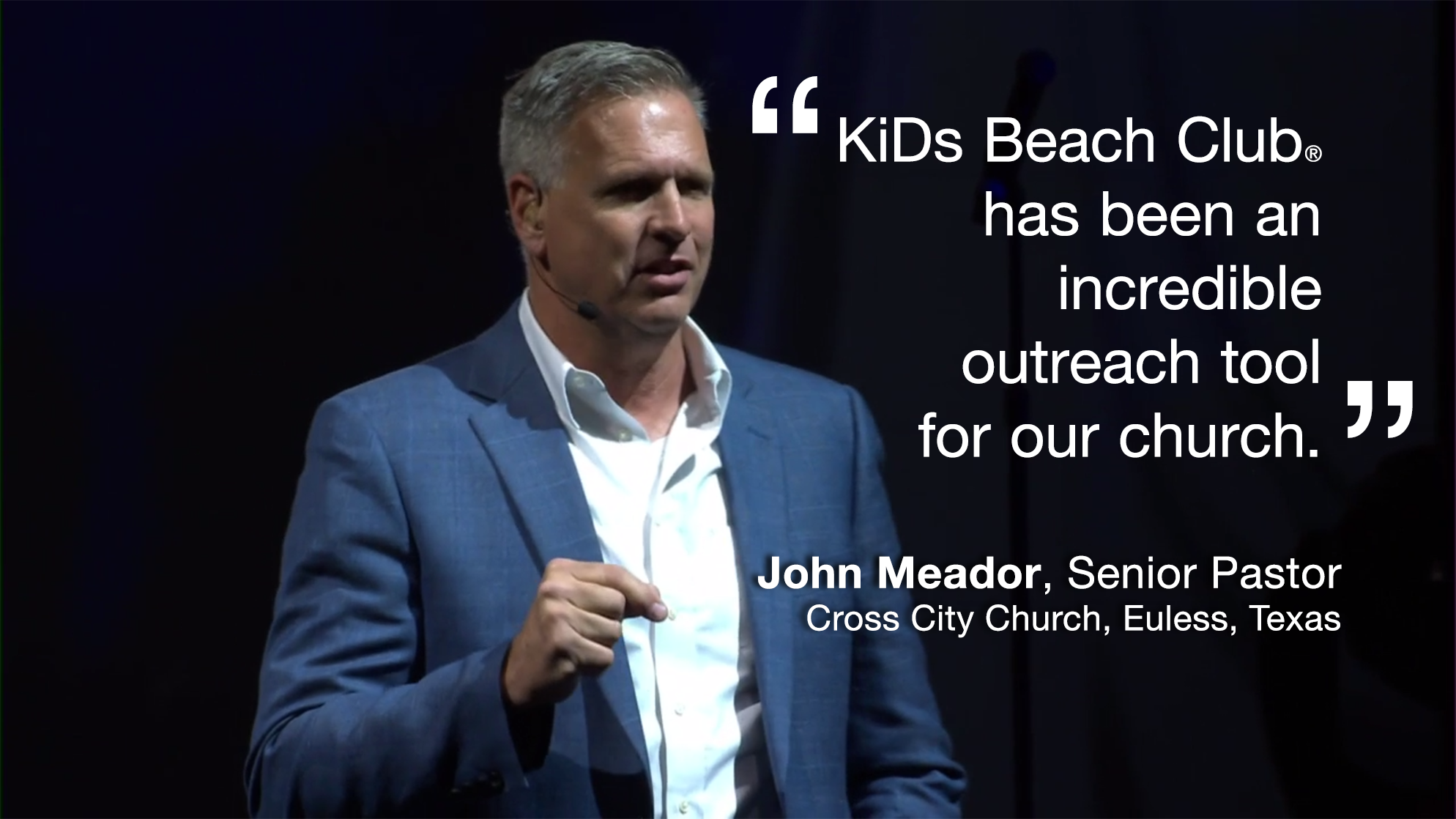 "KiDs Beach Club® has been an incredible outreach tool for our church. The strategy of KiDs Beach Club® keeps us 'externally focused' and the people of KiDs Beach Club® keep us equipped and in touch with ways to reach families in our community for Christ. We're both grateful and excited about continuing our ongoing partnership with KiDs Beach Club®."
John Meador, Senior Pastor
Cross City Church, Euless, Texas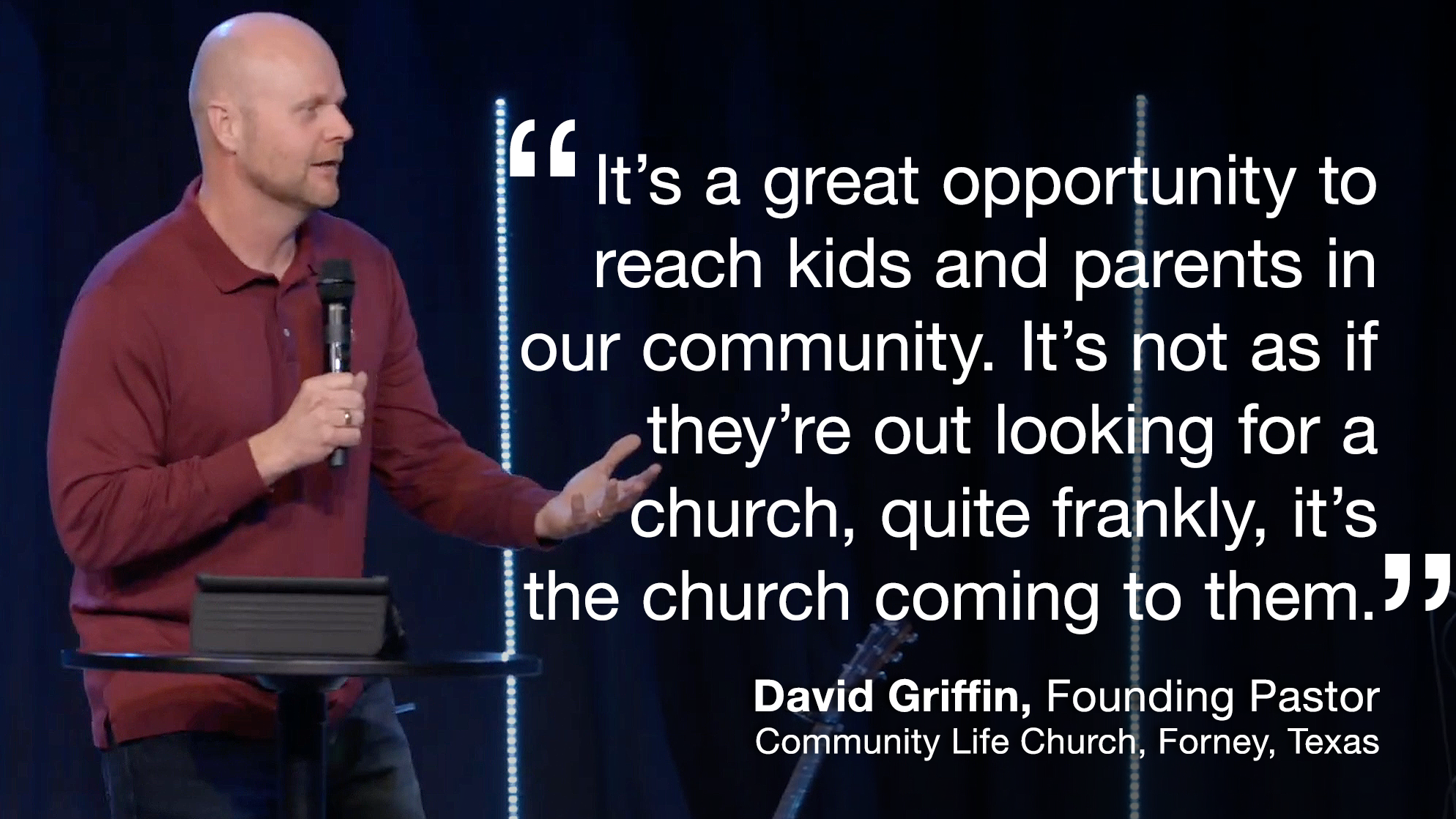 "The most important thing is the opportunity to get a finger into the lives of people in our community that we wouldn't necessarily be able to minister to. It's a great opportunity to reach parents and kids in our community. It's not as if they're out looking for a church, quite frankly, it's the church coming to them. So that's a fantastic opportunity to share the Gospel with them and for them to get the chance to hear the best news that they will ever hear.
KiDs Beach Club® gives us a creative way to begin to transform lives starting with children and then ultimately their parents. That's our ultimate desire to not just start here and stop here but also affect the generations above as well as the generations that will follow.
David Griffin, Founding Pastor
Community Life Church, Forney, Texas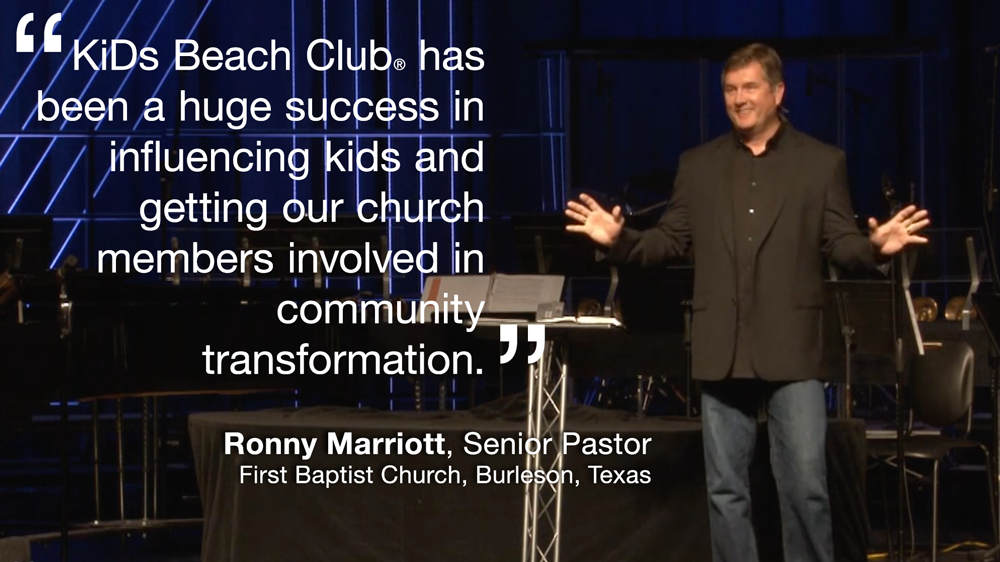 "I am convinced that KiDs Beach Club® is a great tool to reach our community. As a senior pastor, I have been frustrated trying to find ways to share Christ on our public school campuses. Our church continued to experience restrictions and barriers when we tried to connect to our local school campuses. When the leaders of KiDs Beach Club® told me our church members could actually present the gospel to elementary school kids on a school campus, I was hooked!
I had no idea we could access elementary schools this easily. When I told my church, they jumped at the chance to influence kids and their parents in our community. KiDs Beach Club® has been a huge success in influencing kids and getting our church members involved in community transformation.
Thank you for the great impact you are making for the Kingdom! I am excited and our church is excited to be a part of this awesome movement."
Ronny Marriott, Senior Pastor
First Baptist Church, Burleson, Texas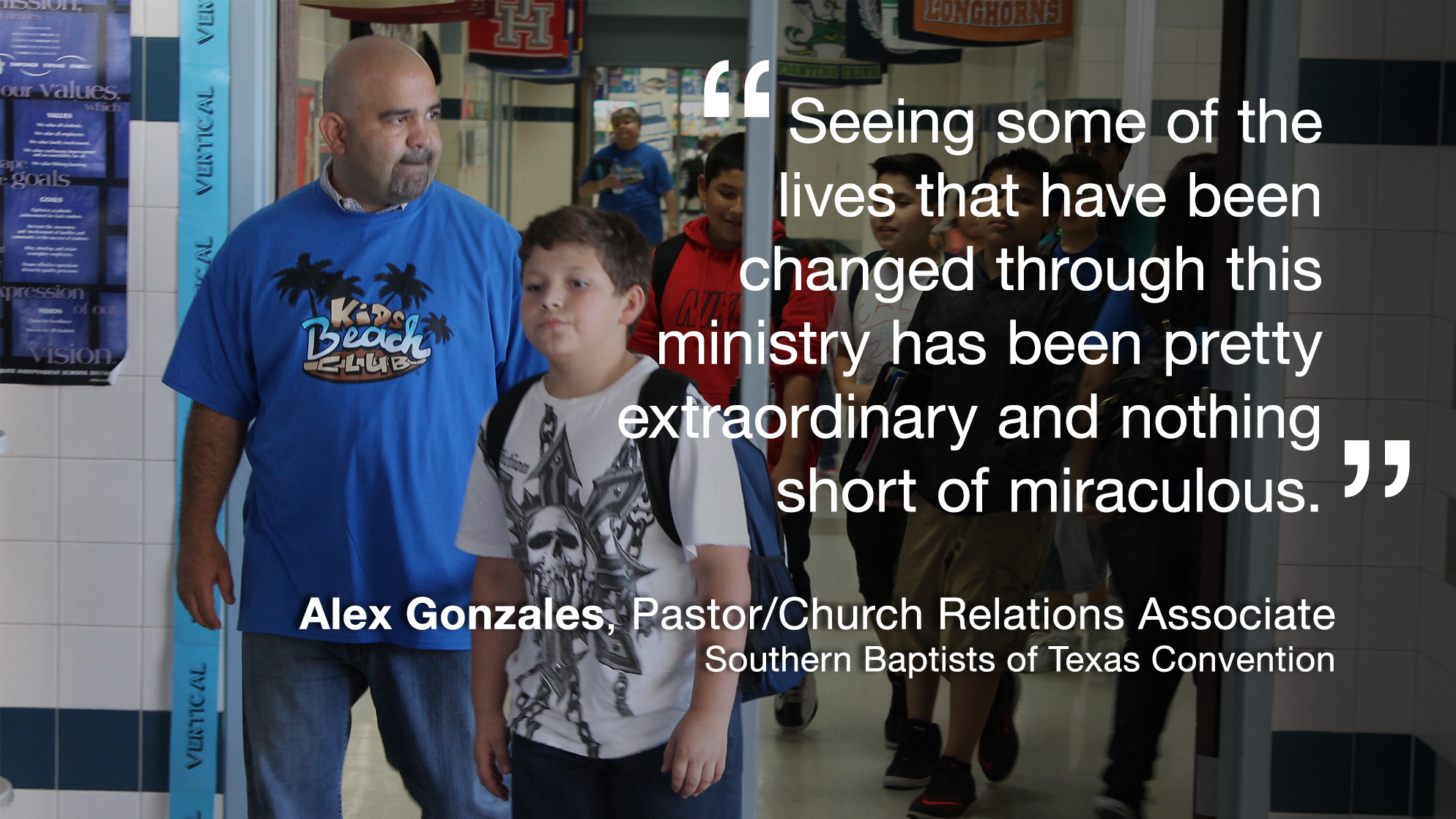 "I've got to be careful with the over excitement I have with KiDs Beach Club® because it almost seems like it's just too good to be true. Seeing some of the lives that have been changed through this ministry has been pretty extraordinary and nothing short of miraculous. When I served as the Pastor at Hickory Tree Baptist Church, we ran 40 people eight years ago and quickly grew to over 100 after starting two Beach Clubs. We ministered to more than 300 children a week in two different schools. We saw 10 percent of those 300 kids come to our church and were running out of space, not knowing what to do. If we had the manpower or the resources we would have done probably five Beach Clubs; we're just that convinced of this ministry."

Alex Gonzales, Pastor/Church Relations Associate
Southern Baptists of Texas Convention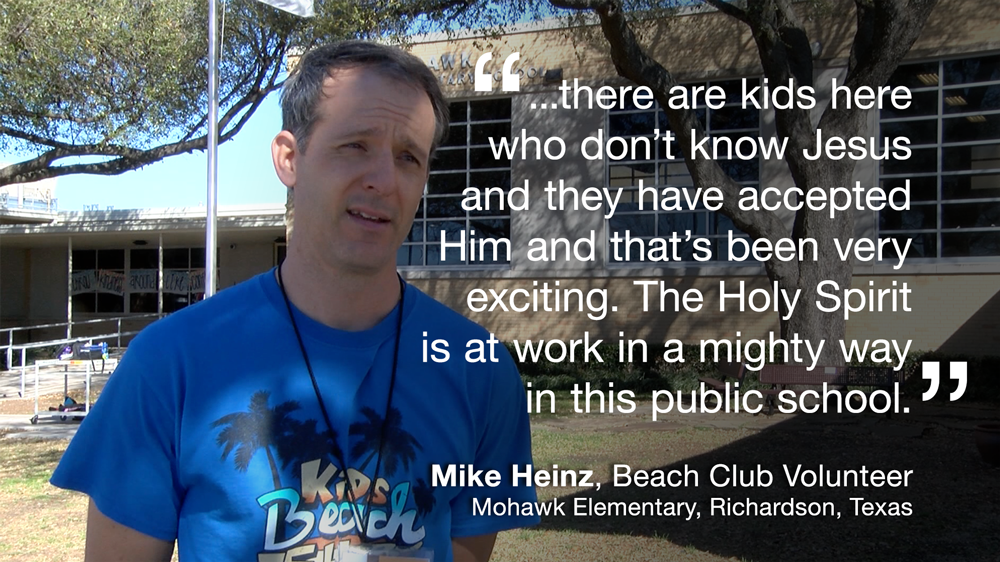 "It is really neat to be able to come into a public place where you know that you may not be received well and get to share Christ. We have had several children who have accepted Christ here at Mohawk Elementary. That's been very exciting. It really gives you energy from week to week and year to year to do this because there are kids here who don't know Jesus and they have accepted Him and that's been very exciting. The Holy Spirit is at work in a mighty way in this public school."
Mike Heinz, Beach Club Volunteer
Mohawk Elementary, Richardson, Texas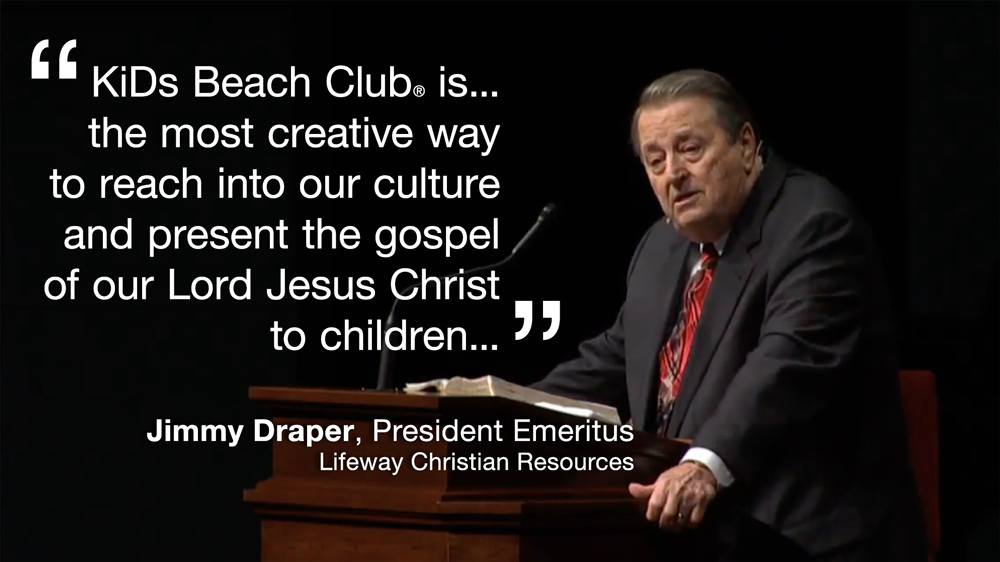 "KiDs Beach Club® is without a doubt the most creative way to reach into our culture and present the Gospel of our Lord Jesus Christ to children around our communities. This is a unique approach to witnessing and sharing that God has blessed in an incredible way. I've never seen anything like it in my 57 years of ministry."
Dr. Jimmy Draper, President Emeritus
LifeWay Christian Resources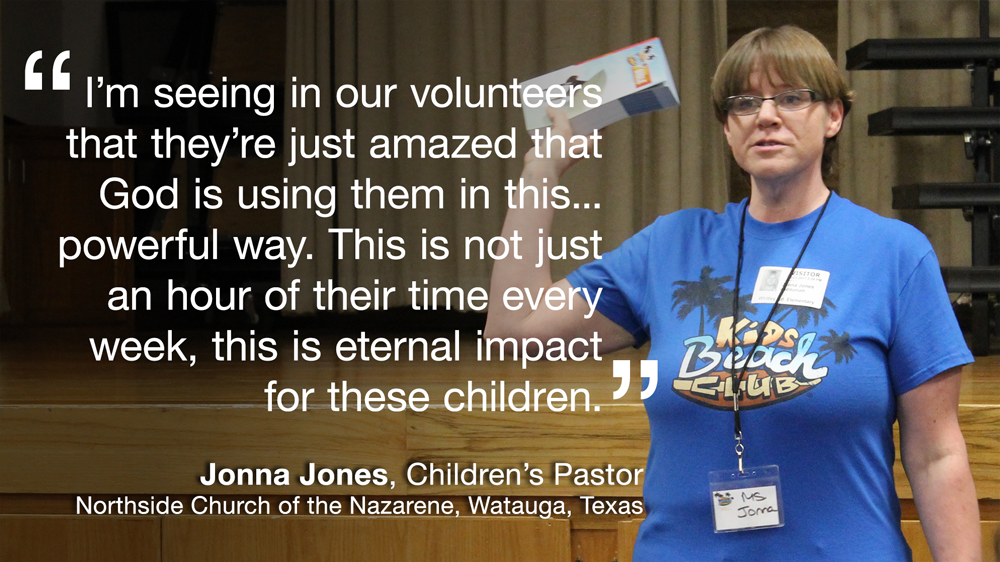 "One of our volunteers asked one little boy, 'Do you have a church you go to?' and he said, 'Well this is my church, this is it.' To me this is just awesome that we're able to bring Jesus into the schools and that they can meet Him there, so that to me has just been a blessing."
"I'm seeing in our volunteers that they're just amazed that God is using them in this way and it's a powerful way. This is not just an hour of their time every week, this is eternal impact for these children. So it's been exciting to see how God is using our volunteers; how He's blessing us through it; and of course, how He's blessing these children at Whitley Road. It's just been amazing."
Jonna Jones, Children's Pastor
Northside Church of the Nazarene, Watauga, Texas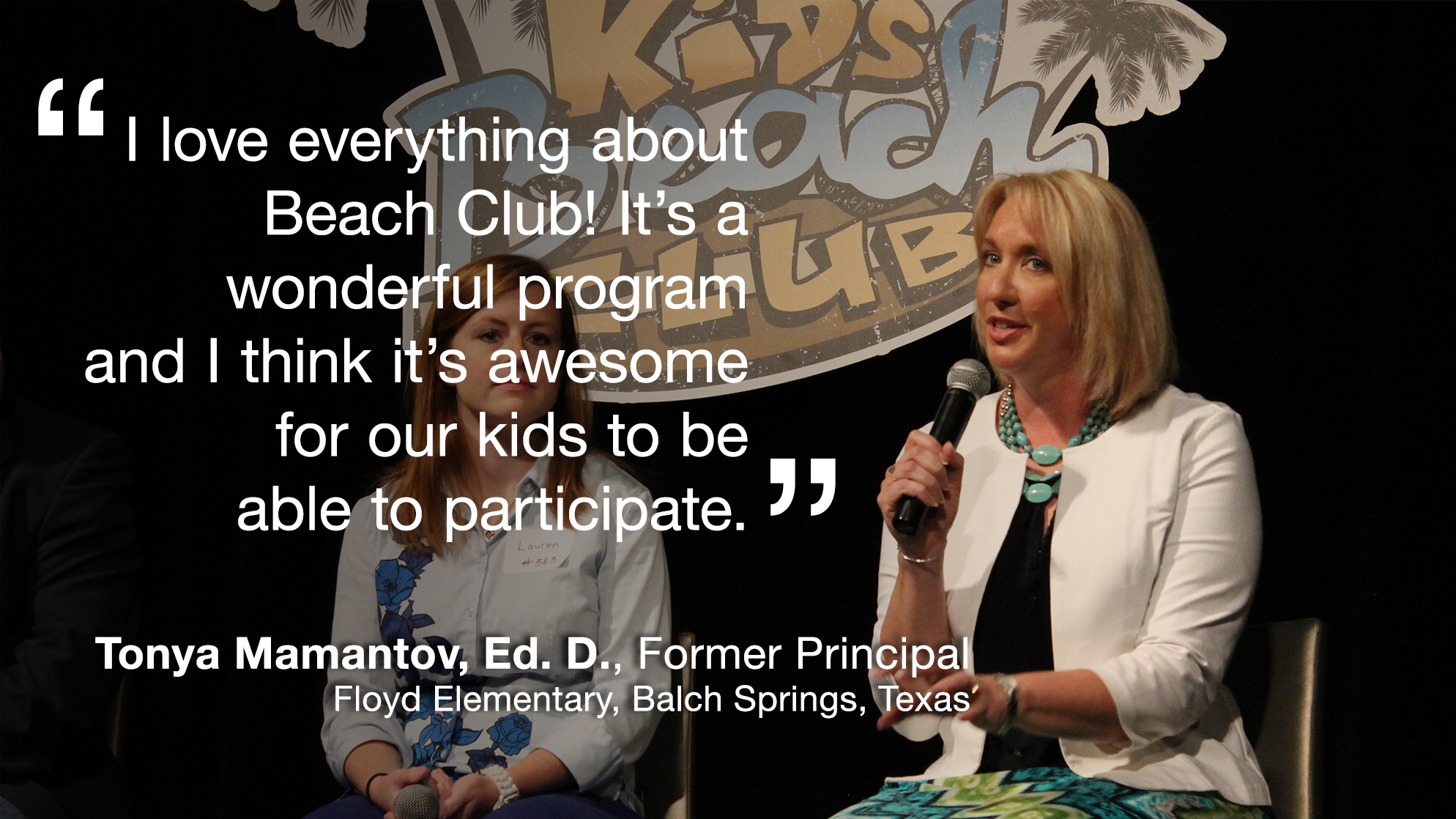 "KiDs Beach Club® has helped our students in a number of ways. It's important to teach our kids about academics, but it's equally important to teach the whole child. We can't teach the Bible as a school, but Beach Club® can do that. I have seen students' self-esteem and self-worth grow in a positive manner. I've seen students who sometimes have bad attitudes with adults and peers turn things around and start making friends. You see the kids coming together as a family. I love everything about Beach Club®! It's a wonderful program, and I think it's awesome for our kids to be able to participate.
"We're seeing such a difference. Our discipline is drastically down, that's huge. It's fun to see the change in the kids. One of those who was a repeat offender - a frequent flyer to our office - came in yesterday and said, 'I just need to calm myself down before I get into trouble.' Last year, he would have just thrown a punch. When I asked him what he was thinking, he told me about a story that he learned in Beach Club®. It's fun to see the change in the kids. It's making a difference not just in school but also in their whole lives."
Tonya Mamantov, Ed.D., Former Principal
Floyd Elementary School, Balch Spring, Texas
Mesquite ISD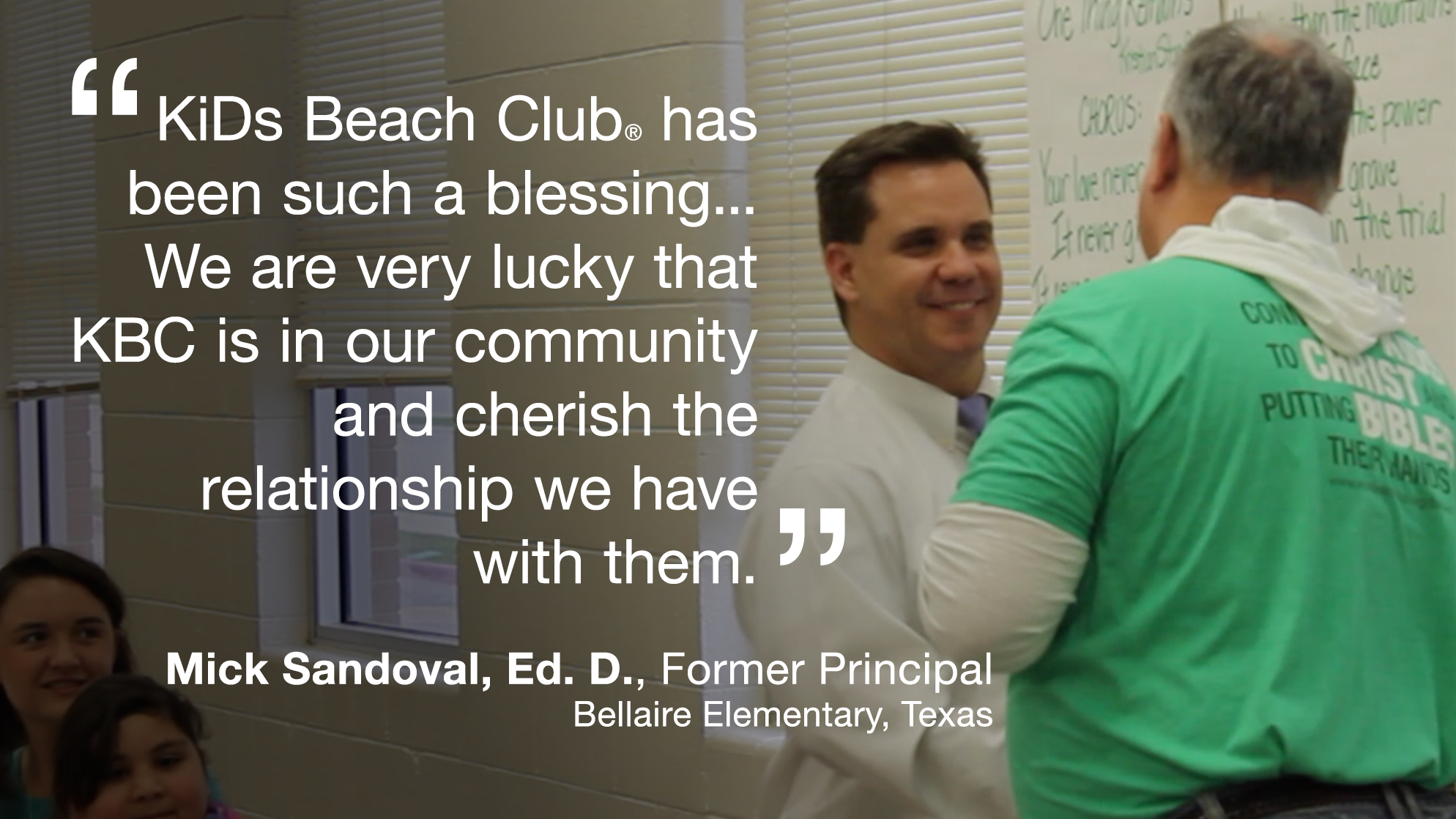 "KiDs Beach Club® has been such a blessing to the Bellaire Elementary Community. KBC provides a safe, nurturing environment after school for the students to learn about and study Christianity. Many of the students respond that KBC gives them an opportunity to 'go to church' since they do not attend any type of service as a family. We are very lucky that KBC is in our community and cherish the realtionship we have with them!"
Mick Sandoval, Ed.D., Former Principal
Bellaire Elementary School, Hurst, Texas
Hurst-Euless-Bedford ISD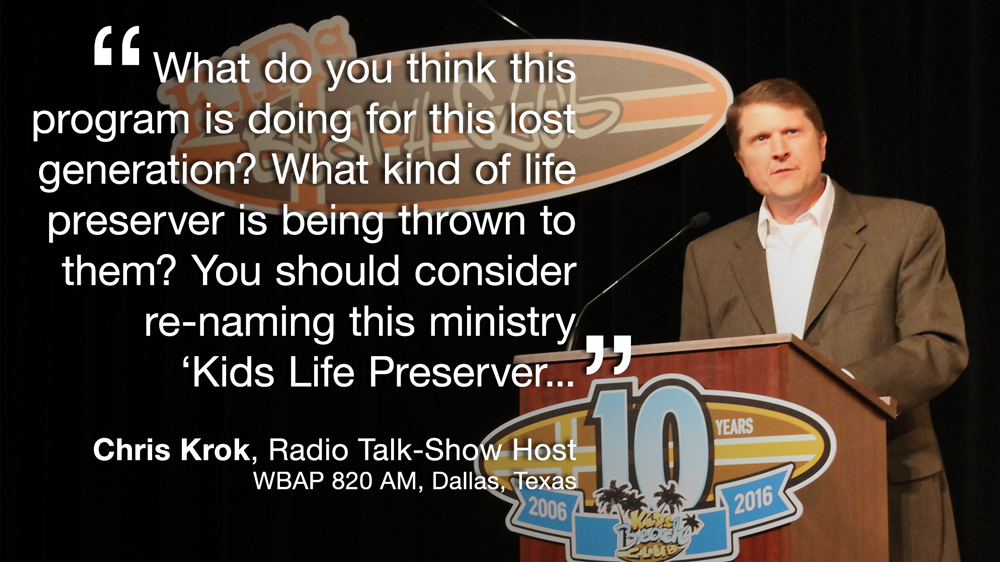 "These kids are not getting the truth at home. They're not seeing God or Christ in their homes. This is your one shot. This is your chance to do something for them to bust the mold. What do you think this program is doing for this lost generation? What kind of life preserver is being thrown to them? You should consider re-naming this ministry 'Kids Life Preserver' or 'Kids Life Saver.'"
Chris Krok, Radio Talk-Show Host
WBAP 820 AM, Dallas, Texas