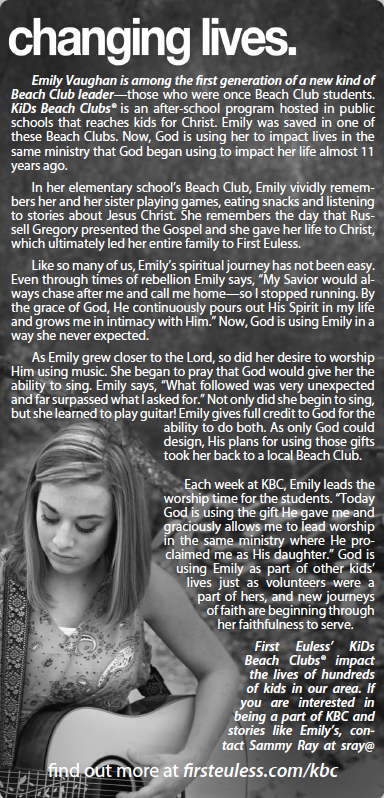 A New Kind of Volunteer

It was at First Euless that the dream of the KiDs Beach Club® program began and started taking shape. Through the children's ministry under the leadership of Jack Terrell, Beach Clubs were first launched in the HEB ISD in the mid cities area of Dallas/Ft. Worth, Texas.


First Euless recently featured one of their new volunteers as a testimony of how this program has made an impact and is changing lives. Emily Vaughn is among the first generation of a new kind of Beach Club leader - those who were once Beach Club students. Emily was saved in Beach Club. Now, God is using her to impact lives in the same ministry that God began using to impact her life almost 11 years ago.
In her elementary school's Beach Club, Emily vividly remembers her and her sister playing games, eating snacks and listening to stories about Jesus Christ. She remembers the day that Russell Gregory presented the Gospel and she gave her life to Christ, which ultimately led her entire family to First Euless.
Like so many of us, Emily's spiritual journey has not been easy. Even through times of rebellion Emily says, "My Savior would always chase after me and call me home - so I stopped running. By the grace of God, He continuously pours out His Spirit in my life and grows me in intimacy with Him." Now, God is using Emily in a way she never expected.
As Emily grew closer to the Lord, so did her desire to worship Him using music. She began to pray that God would give her the ability to sing. Emily says, "What followed was very unexpected and far surpassed what I asked for." Not only did she begin to sing, but she learned to play guitar! Emily gives full credit to God for the ability to do both. As only God could design, His plans for using those gifts took her back to a local Beach Club.
Each week at KBC, Emily leads the worship time for the students. "Today God is using the gift He gave me and graciously allows me to lead worship in the same ministry where He proclaimed me as His daughter." God is using Emily as part of other kids' lives just as volunteers were a part of hers, and new journeys of faith are beginning through her faithfulness to serve.
Published on Oct 27 @ 9:37 AM CDT