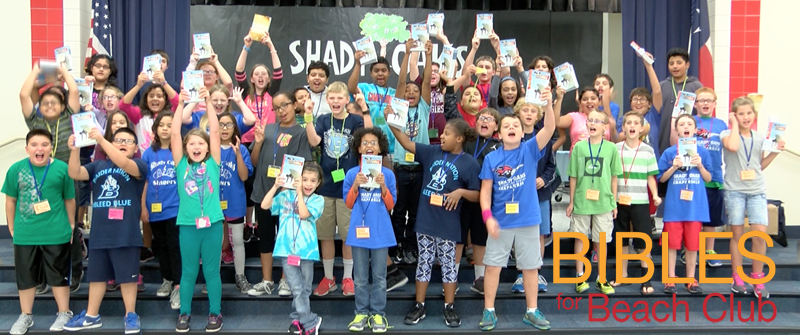 Great Treasure Day is the day that Beach Clubs hand out the KiDs Beach Club® Explorer's Study Bible to every child in every Beach Club who has not already received one.
God's Word is the greatest treasure on earth and it is the centerpiece of our ministry. We want every child to have their very own copy to read, study, share and grow from making a daily and eternal impact on their lives.
Most of the 164 beach clubs will hold their Great Treasure Day on the fifth week of their club. While schedules vary, most will take place this month. Some Beach Clubs, like the one at Shady Oaks Elementary School in Hurst, Texas, have already had Great Treasure Day.
"The kids have been counting the days since we started" said Suzette McCash, the club leader at Shady Oaks, which distributed their Bibles October 8. "We told them on day one that in three weeks we would have Great Treasure Day and that they would get their own Bible."
There are countless benefits to kids receiving their own Bible.
"Teachers tell us the kids open their Bibles in class and read their Bibles there," said McCash, who has served as the club leader at Shady Oaks for all 10 years of KiDs Beach Club®. "In this day and age, you just would be surprised that could happen, but that way, they get to share with their friends who Jesus is. That is our main goal. We want them to know the Bible is a great treasure. That it is the true Word of God and that He loves them."
Another positive is that KiDs Beach Club® may be putting a Bible in a home for the first time.
"I think it is a good thing that we can give to know that these children are putting Bibles in their home," McCash said. "Some of them may have never had a Bible in their home. There might be parents that are looking at these Bibles that have never opened one before. Hopefully, that is what is happening.
"We have a brother and sister here that came from Beach Club to join as members our church. The mother is an active member now. So it has just been an all-around good (experience). How can you go wrong when you put the Word of God in someone's hands? It's a Great Treasure Day every day when they can walk away with a Bible. I thank Beach Club for the opportunity to do this.
Perhaps the biggest positive is that kids are getting something they can call their own.
"They are excited. For one thing, it's theirs," McCash said. "Some of them don't have any thing that is theirs and this Bible is theirs. The parents have been good to help them get the Bibles back and forth to school. I think they are just very proud that they are their own. We haven't had many, if any, that have lost them."
Before Great Treasure Day started last spring, each club was giving away just one Bible each week of the club. McCash said she noticed a big difference when KiDs Beach Club® began giving every child a Bible.
"When we were giving away one a week they would have it one week and lose it the next," she said. "I think this has made a big difference, that we have made a big affair out of it and they see that they're special because they get this Bible and they get to hold on to it. No one literally can take it away from them."
Your support of our Bibles for Beach Club program helps put Bibles into the hands of every child in KiDs Beach Club®, helping connect them and perhaps their families to Christ. Thank you for your continued generosity.
Published on Oct 20 @ 2:20 PM CDT