We make a huge deal about Great Treasure Day at KiDs Beach Club® and rightfully so. It's the day that every child in every Beach Club receives his or her own KBC Explorer's Study Bible.
You've read the stories and watched the videos recounting the Great Treasure Day celebrations, but what happens after the Bibles are stuffed into a child's backpack and head out the door and into a home? Do they take up permanent residence in the backpack to be read regularly or do they only make it back into the backpack on the day of Beach Club.
"I've seen a tremendous impact through these Bibles," said Robert Schulze, the children's pastor at North Pointe Baptist Church in North Richland Hills, Texas. "Sometimes when we give a Bible, a kid will take it home and we're not always sure what they're doing with them."
After Great Treasure Day last month at Mohawk Elementary in Richardson, Texas, a mom sent a text to her son's Surf Team leader thanking her for the impact she is making through KiDs Beach Club®.
"Hey, I just wanted to let you know that Anderson has been loving his new Bible," she wrote. "He has several Bibles floating around our house, but not one of which has grabbed his attention like this one has. He has spent hours reading through it and highlighting any passage that grabs his attention. He has actually found some really neat scriptures that are new to me. Thanks so much for the part you have been playing in Beach Club with him."
Many of the volunteers at Mohawk have been able to recount similar stories about Great Treasure Day.
"My kiddos both had their Bibles out this morning and were eager to highlight anything and everything," said Ashley Gillard, a Surf Team Leader who works with third-grade girls and whose two children attend the Beach Club.
The Bibles come out of the backpacks during school hours, too.
"I have had a conversation with one teacher in particular," said Laurie Newby, the children's minister at Trinity Bible Church that sponsors the Beach Club at Mohawk. "She said, 'I just want you to know it is so great to see these kids take their Bibles out and spend their time reading them; and then hear them discussing what they are reading.'"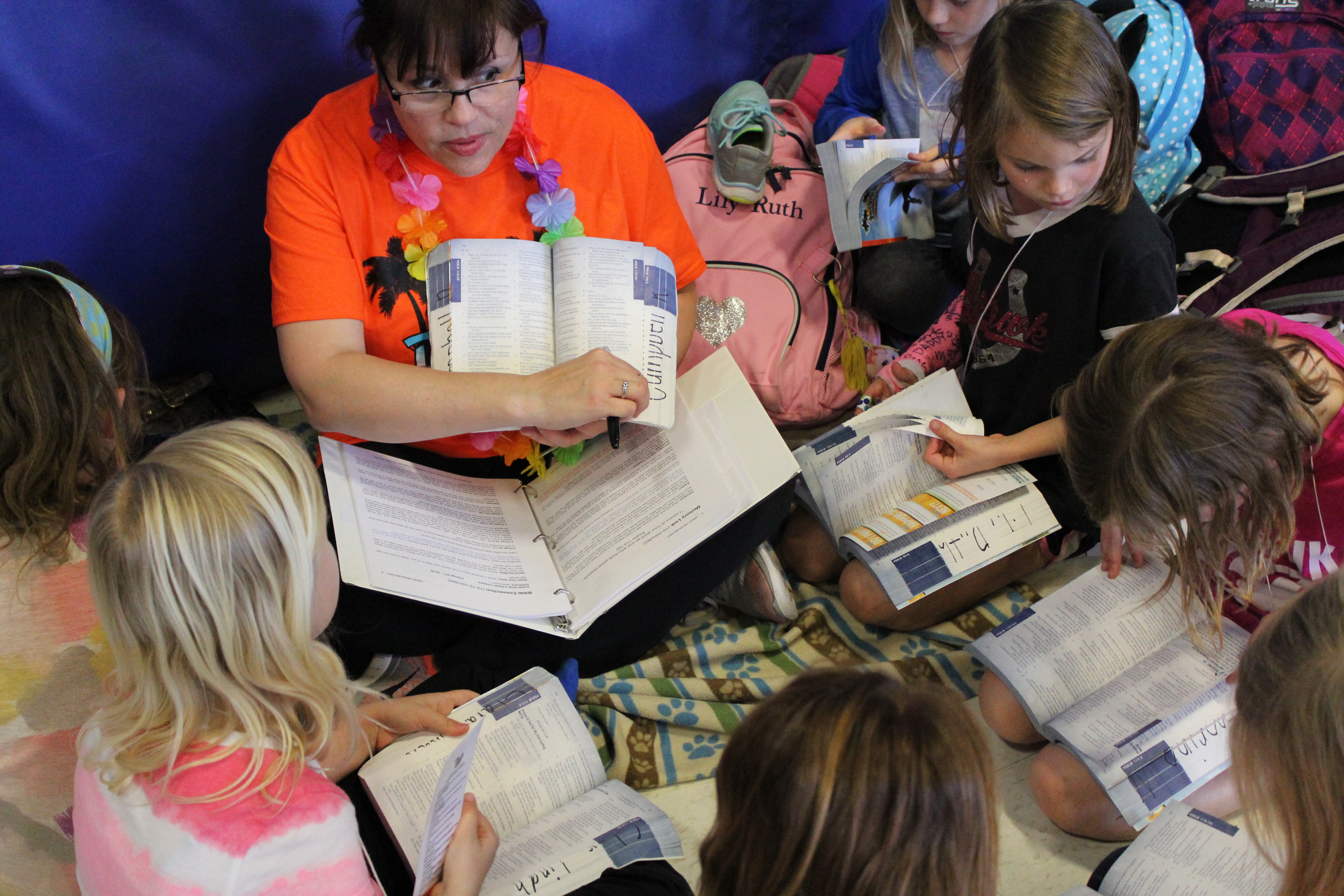 Since this was the second Great Treasure Day at Mohawk, some of the kids already had received a KBC Bible.
"I had an amazing day with my fourth-grade girls," said Pam Deahl, a Surf Team leader at Mohawk. "While the majority of them already had a KBC Bible, it was a sweet time sharing what the Bible has meant to them and an opportunity for me to ask them to share verses that are special to them and to ask who had originally shared those verses with them. It was incredible and gave me a lot of insight into their hearts and where they are in their spiritual journeys."
For most kids who attend Beach Club, the KBC Bible jumpstarts their journey with God.
"It's really cool to see how excited they are about those Bibles," Newby said. "For me, the coolest thing is that they understand what a treasure God's Word really is."
The Bibles are making an impact beyond weekly Beach Club meetings.
"It has had a tremendous impact getting these Bibles into the home," Schulze said. "We use them at Beach Club so the kids are using the Bibles and learning how to use them and by virtue of that they're going home and they're using them."
Published on Mar 16 @ 3:45 PM CDT