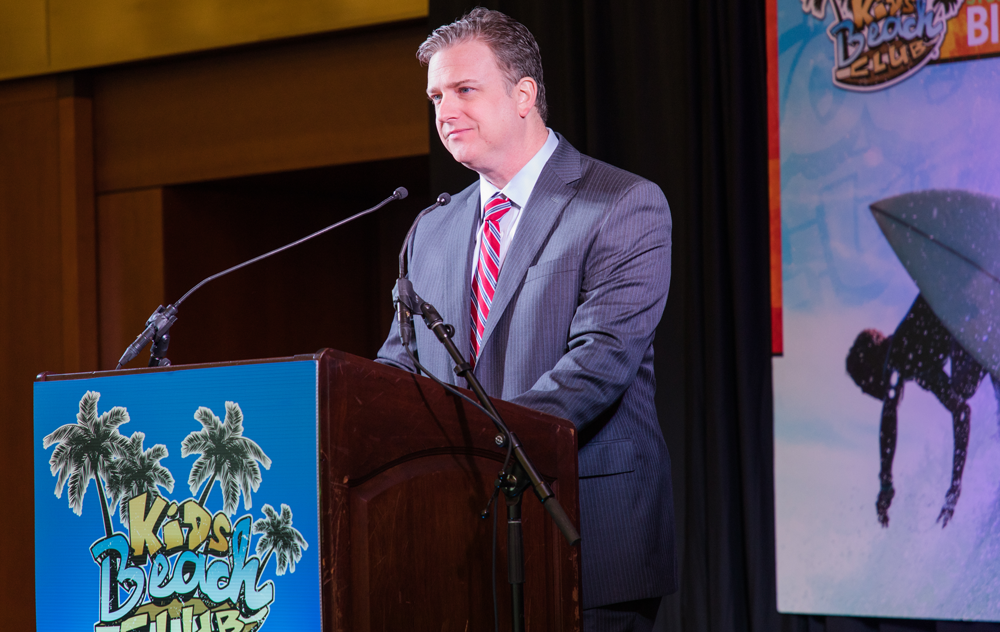 Despite an April Saturday filled with steady rain and thunderstorms, a big crowd gathered at Texas Motor Speedway for the 2019 Bibles for Beach Club Benefit Dinner for an evening of fun, inspiration and giving.
The bad weather cancelled the popular pre-event pace car rides for event sponsors and table hosts, dozens of KBC supporters were lined up and eager to flood the Grand Ballroom of The Speedway Club when the doors opened at 6 p.m. to get in on the popular Dine & Dash and Pick & Play games, which featured more than 200 restaurant gift cards and certificates for entertainment venues in the DFW area.
Prior to and during dinner, guests were entertained by music from Travis Muscatell, artist in residence at KBC partner, 121 Community Church in Grapevine, Texas. Following dinner, Grant Johnston, the morning meteorologist at NBC 5, showcased the impact of KiDs Beach Club since 2003 with nearly 20,000 volunteers ministering to more than 97,000 children and 8,730 of those kids making Jesus their forever friend in Beach Club. Those numbers brought hearty applause from the crowd which also cheered the fact that 60,901 Bibles had been handed out to children in public schools since 2003. Johnston then told some impactful stories of how God's word had made a difference in the lives of several children who received Bibles from the previous benefit dinner in 2017.
Entertaining auctioneer Loyd Sawyers and his team of energetic screaming spotters led the crowd through a series of adventures to bid on which included a year's worth of flower bouquets popular with the ladies in the audience, and a helicopter hog hunt which brought top dollar amounts from the men.
Mesquite ISD superintendent Dr. David Vroonland then delivered a powerful keynote speech starting with a shower of praise for almighty God.
"All praise and honor to our God and Father who created all," he said. "Who created each of us, all of us, uniquely and wonderfully and gifted us to serve Him and serve His people."
Vroonland's message, which evoked a standing ovation, recounted his own childhood struggles of growing up in the foster care system until a family adopted him and raised him in the love of Christ helping him overcome adversity.
He encouraged the crowd that "each of us, while we share much in common, are uniquely created to have impact on the lives of others." Vroonland said he shared his own story to build confidence with the crowd that when people in the audience give their gifts to the service of God's people then those gifts will be used by God.
"Perhaps your gift will change the life of a child, your gift may be an expression of love felt by a child or your gift may help a child feel like they are valued and help them make a declaration of faith," Vroonland said. "People like you made a difference in my life and I know you can do the same in the lives of my children and the many children like them. I promise you, your gift of love will make all the difference."
Continuing the theme of being a person of influence was Dr. Jeff Thompson from the Concord Baptist Association in Fort Smith, Ark. He saw how KiDs Beach Club® was sharing the gospel with children in public schools every week and wanting that for the Fort Smith area, led the association to offer financial assistance to seven member churches resulting in seven Beach Clubs.
Thompson shared his vision.
"By 2023, I would hope and pray that 1,000 Baptist churches and 1,000 other evangelical churches step up to start a Beach Club, because we could easily have 2,000 clubs in Arkansas if we had the churches and people willing to serve and do it," he said.
That type of vision and inspiration prompted the supporters to enthusiastically give to the Bibles for Beach Club Program which covers, but is not limited to, the purchase of the Bible and all costs associated with getting that Bible into the hands of the child including the storage, shipping, design and marketing.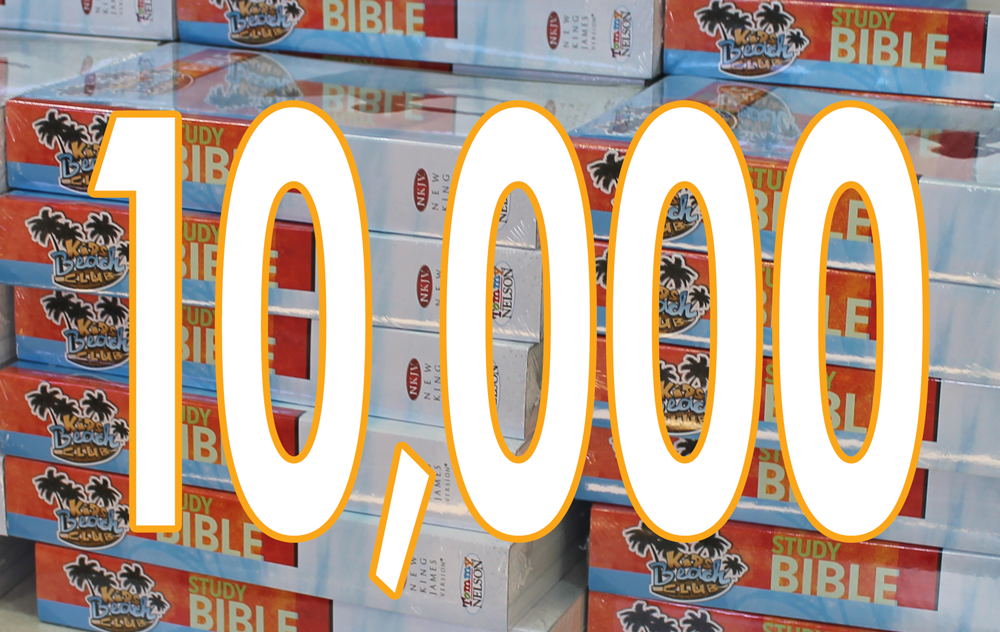 Thanks to the generous outpouring of giving and sponsorship of the Bibles for Beach Club Benefit Dinner, KiDs Beach Club® raised nearly $200,000, and the following Monday, put in an order for 10,000 Bibles to be handed out to children in public schools for the 2019-20 school year.
Jack Terrell, the founder and president of KiDs Beach Club®, is grateful for everyone who participated in a memorable evening.
"A heartfelt thank you to every donor, sponsor and volunteer, who came through in spectacular fashion to contribute to making this night a huge success," Terrell said. "Your gracious support Saturday allowed us to place our next order for 10,000 new KBC Explorer's Study Bibles and it also allows us to take the initial steps toward our ambitious growth plan to minister to 100,000 children a week in 2,000 schools nationwide by January of 2025.
You are helping us make an eternal difference in the lives of thousands of children and their families. Thank you for believing in our ministry and helping us connect kids to Christ and put Bibles in their hands."
Published on May 14 @ 12:05 PM CDT