If you attend Beach Club, you already know you can have your Bible and talk about your faith at school, but we hope you will participate in a nationwide celebration this Thursday.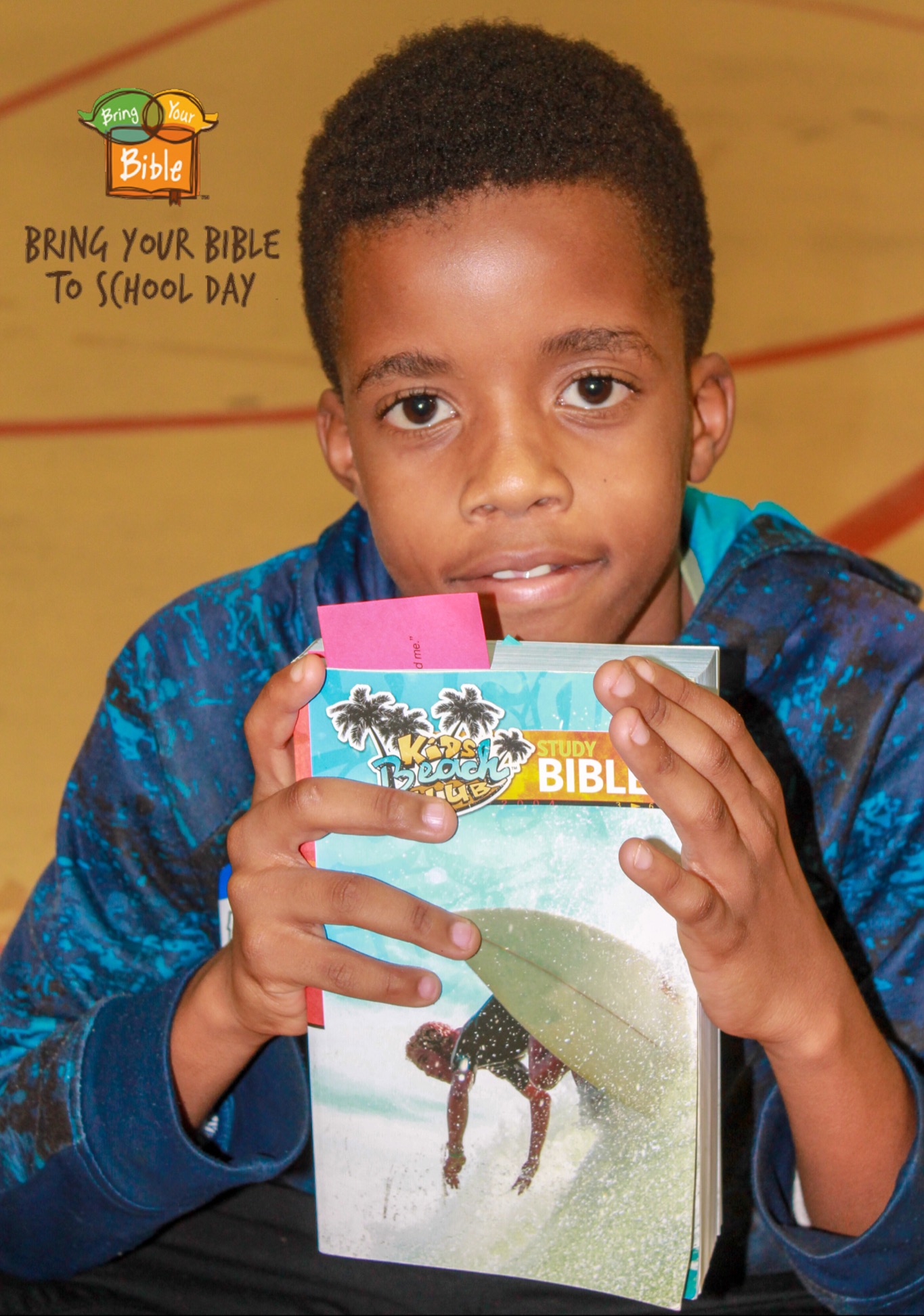 Thursday Bring Your Bible to School Day, the day thousands of students across the country share God's hope and celebrate religious freedom by doing something simple, yet powerful: they bring their Bibles to school and talk about it with friends!
Here are a few tips to have fun while being obedient to God on Bring Your Bible to School Day:

Participate with your friends
Doing something is always easier with support, so gather your closest friends and bring your Bibles to school together. Make it cool! Laugh, have fun, take pictures with your Bible. Faith it until you make it. The impact you can make at your school is bigger than one person's opinion.
Make a game out of it
You and your friends can challenge each other to see who can have the most gospel conversations at school that day. The loser buys the winner lunch, or ice cream from their favorite place. You and your friends can come up with the terms, just have fun with it.
You only have an audience of one
God is the only one we really have to please, so keep that in mind when you face opposition. The world is temporary, but the kingdom of God is forever. God will bless you for being bold in your faith and bringing your Bible to school. Remember you are storing up your treasures in heaven. A few hard days on earth are nothing compared to spending eternity in heaven with the Lord.
"I have told you these things, so that in me you may have peace. In this world you will have trouble. But take heart! I have overcome the world."
John 16:33
"Consider it pure joy, my brothers and sisters, whenever you face trials of many kinds, because you know that the testing of your faith produces perseverance.
James 1:2-3
God didn't say we wouldn't face troubles or "if" we face troubles. He said you will have trouble and, when your face trials. There will be opposition for some bringing your Bible, but as it says in James, consider it pure joy!
To make your day go smoother, we found out what you can and can't do at school.
You can:
Bring your Bible
Read your Bible during free reading time
Pray at school
Share scripture with friends
Show love to everyone, just like Jesus did
Participate in Christian themed events
You can't:
Disrupt instruction time
Harass other students
Ignore school policies


God called us to be the salt and light of the world, but remember too much salt can ruin your meal and too much light can be blinding. A little bit goes a long way. Don't force it. The most important thing is to love your friends like Christ loves you and share about the Bible as you feel led. If they see you loving well and see that you read the Bible they will make the connection.
We are praying with you on Bring Your Bible to School Day and can't wait to see the impact you make on your campus! Post pictures on social media and use the hashtags #BringYourBible and #BringYourKBCBible.
For more information about Bring Your Bible to School day, visit bringyourbible.org.


Published on Oct 03 @ 12:03 PM CDT