Debbie Alsup, Surf Team Leader at Bartlett Elementary in Tennessee, has seen how the impact of KiDs Beach Club® creates a ripple effect in the families and communities it touches. Like a stone tossed into a pond, the impact spreads outside the club to touch the lives of so many others.
After being started in partnership with Faith Baptist Church, Debbie's club has had a phenomenal impact on the more than ninety kids who attend regularly. The ripple effect happens because kids are engaging with God's Word.
On one occasion, as Debbie was collecting supplies from the school to be ready for the club, she came across a lost Bible from one of the boys named Jack. Upon opening it, she saw an inscription declaring the book belonged to Jack and was written by "God and Jesus." "I thought it was very intelligent of him and encouraging," Debbie said, "He got it!"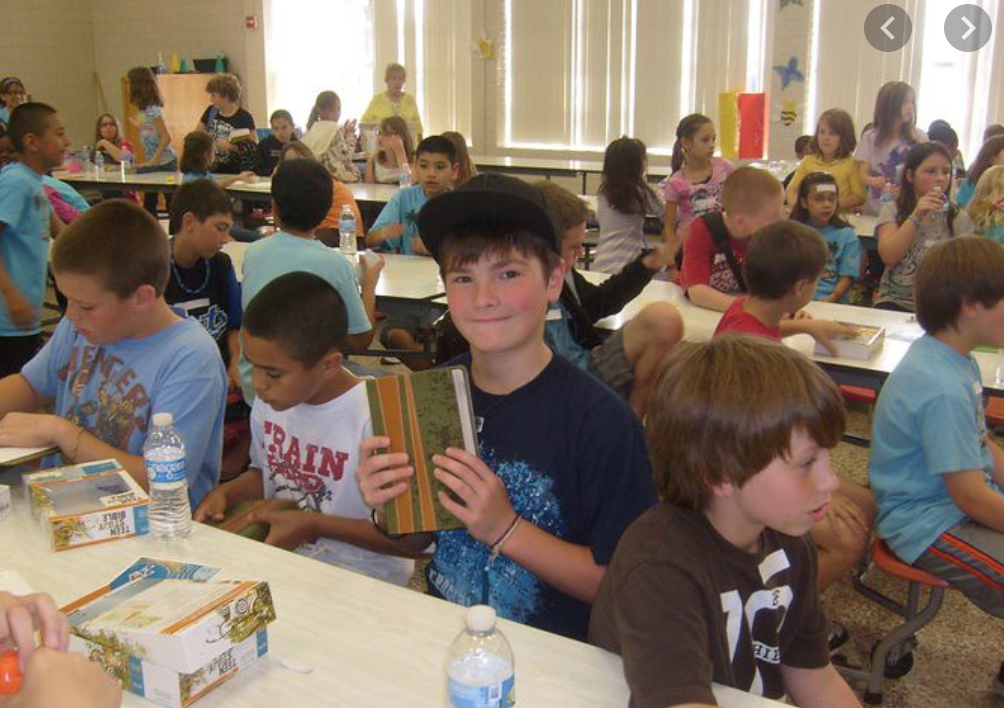 Every Beach Club has its own stories from making Jesus cool in school to ministering to the community. But the entirety of this ministry could possibly be summed up in the words of one little girl: "I'm ready."
Debbie has seen many children come to Christ through KiDs Beach Club®, but when one little girl walked right up to her and made that statement, she didn't know what to make of it. "I thought, 'Do you need to go to the restroom? Do you need some water?'" Debbie recalled, "I didn't know what she was going to say. And that's when she told me that she was ready to accept Jesus!"
It wasn't until a few months later that Debbie learned the young girl had often been asked by her mother, "Are you ready to follow Jesus?" To which her daughter would always reply, "Not yet." So when she was finally ready to call on Jesus as her Savior, she marched right up to Debbie and proclaimed, "I'm ready!"
The ripple effect could be seen when another young lady asked her Surf Team Leader if her mother could also read from her KiDs Beach Club® Bible... an innocent question with incredible implications! Thanks to our generous donors and volunteers, her family now has their own Bible in the house to cherish as their own Great Treasure.
When connecting with kids, KiDs Beach Club® becomes more than just a ministry. One team leader in Debbie's Beach Club sent postcards to her students whenever they missed a club meeting. When one fourth grade student missed a few club meetings, the leader sent him a postcard letting him know he was missed and that she was praying for him.
His appreciative mother reported later that her son saved the card and posted it on his bulletin board. His mom thanked the leaders for caring so much as she saw the love of Christ displayed. This seemingly small gesture showed how the Clubs become more than ministry. As Debbie puts it, "It's like a second family."
Debbie and her team saw the ripple effect when one young girl took the gospel message to heart—and to her neighbors, as well. Her faith resulted in her ministering to her unchurched neighbors.
"The girl visited another child in the neighbor's home, Debbie said, "but she also talked to the parents because they're interested in listening to see what the lesson was for this week. She didn't encourage them to go to church or anything. She just shared the Bible lesson they had that week."
But after witnessing this little girl's unwavering faith, the family began coming to weekly services at Faith Baptist Church. She knew that Jesus would want her to share the faith she found in Beach Club with every person she meets!
What a wonderful example of what the Apostle Paul tells Timothy: "Don't let anyone look down on you because you are young, but set an example for the believers in speech, in conduct, in love, in faith, and in purity." (1 Timothy 4:12 NIV)
These stories and countless others taking place throughout the year at Beach Clubs across the nation show the widespread impact as the Word of God spreads through the children and into the hearts and lives of others. The great commission is being fulfilled to every boy and girl—and their friends and family. And with hundreds of clubs and counting, we're looking forward to celebrating even more stories of the ripple effect of KiDs Beach Club® for years to come! Click to give in support of the mission!


Published on Jul 06 @ 1:47 PM CDT