Great Treasure Day, the day when every child in every Beach Club is given a KiDs Beach Club® Explorer's Study Bible, is being celebrated in Beach Clubs again this fall. While most clubs will be participating this month, some of the festivities will continue into November.
While there are a number of new Beach Clubs that are observing Great Treasure Day for the first time, quite a few Beach Clubs are presenting fewer Bibles this year, giving them mostly to third graders and other first-time clubbers since everyone else received their own Bible within the last 18 months.
What clubs are trying to do now is make Great Treasure Day just as special for those children getting a Bible for the first time as it was for those who already have a Bible when they got to experience Great Treasure Day the first time.
The Beach Club at South Euless Elementary, sponsored by First United Methodist Church of Euless, Texas, held Great Treasure Day the second week of October. Each child was presented with a lei when they arrived to club and there were special snacks on a beautifully decorated table. In the middle of the room sat a large table with stacks of new Bibles. Volunteers had arranged each Bible by Surf Team and placed a sticker in the Bible with each child's name.
To begin the ceremony, the club leader at South Euless asked the children, "Who can tell me why we call it KiDs Beach Club?" A little red headed second grader named Maddie raised her hand high and was called on to answer. She said, "Because of the treasure we find on the beach and our treasure is God's word!"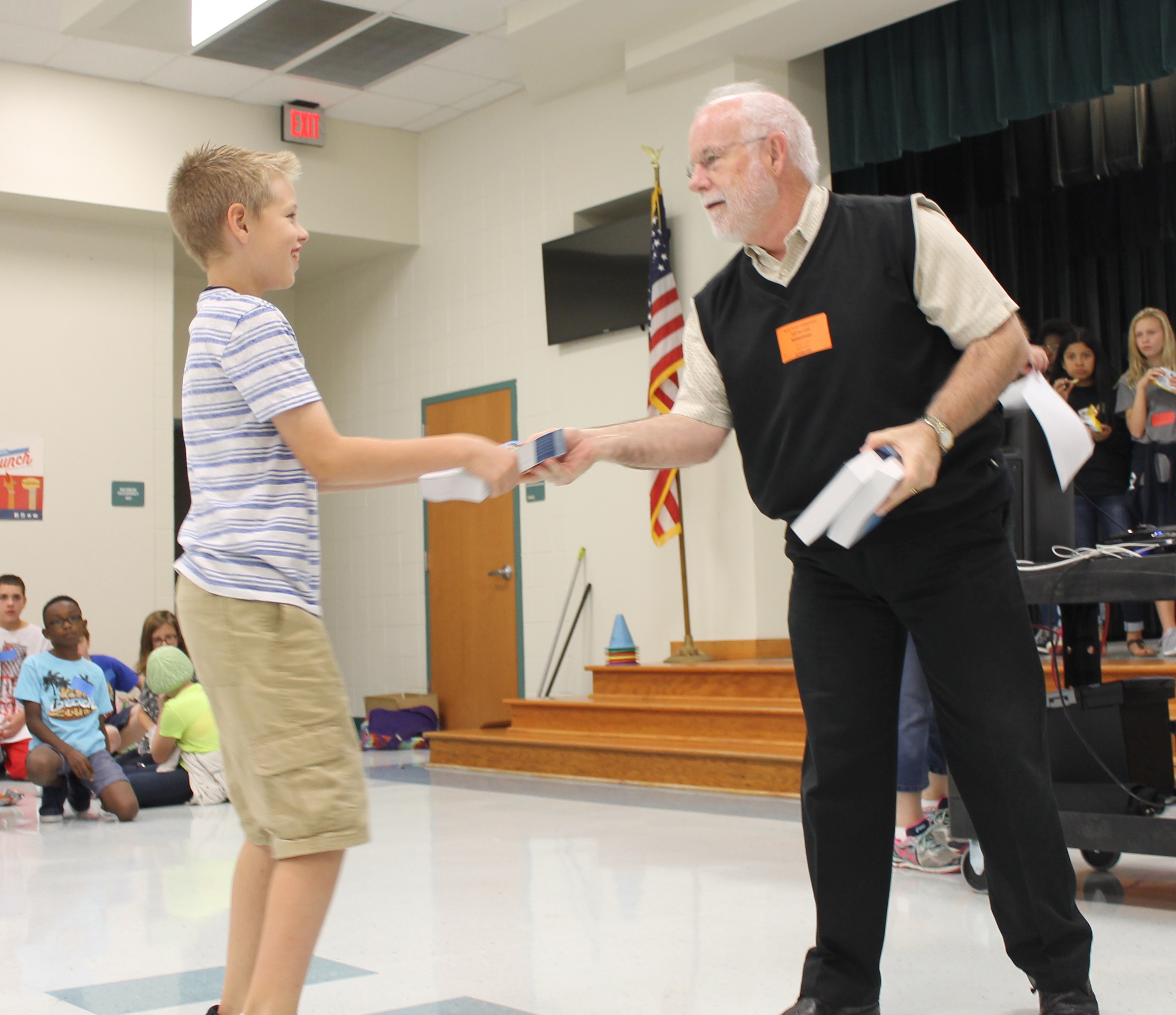 Maddie was not being given a Bible that day, but she was being celebrated in a different way. Maddie previously had been given a Bible on Great Treasure Day last fall. Maddie was being celebrated because of her faithfulness to bring her Bible to club, taking good care of it and also reading it on her own. She was given a sticker and another special prize by her club leader, as were many other children who attend Beach Club at South Euless.
These children cherish the gift of a brand new Bible.
"It's really a treasure to me and I'm really happy to have it," said Ben, a third grader who started attending Beach Club this year at River Trails Elementary in Fort Worth, Texas. "I already had another Bible and I like reading different Bible verses. I felt really proud and excited when I got this Bible today. I can't wait to start reading it. I think Beach Club is an awesome place and I really like the stuff we learn."
Audey, a sixth-grade girl at River Trails, said watching kids get their Bibles this year brought back memories of when she received her Bible.
"Thinking back to when I got my Bible, it meant a lot. I was glad to finally get my Beach Club Bible," she said. "Today, it looked like the younger kids were really happy. They were excited like I was when I got mine."
Your monthly support for Bibles for Beach Club does not just put a Bible in the hand of a child for one special day. It gives children a long-lasting opportunity to know and learn the scriptures and that further connects them to Christ.
Published on Oct 24 @ 10:08 AM CDT