KBC: There's an App for That



Imagine being an after-school club leader or volunteer and having all the tools you need for club right in the palm of your hand. Imagine watching KBC-TV and wondering, "how can I find Hang 10 pages and Bible conversation starters for my family?" Imagine being a school district administrator and needing a new character curriculum to meet statewide standards. Now imagine that these things no longer must exist just in your imagination. They're all coming in 2022 with the development of 3 unique KiDs Beach Club apps!
KBC After-School Bible Club App
Though still early in the process, we at KiDs Beach Club® expect to roll out all three apps by summer 2022. The first app will focus on our After-School Clubs. Volunteers will be able to take attendance, pull up curriculum and videos, and find training tools. Parents will be able to register their kids for club, keep track of Hang 10 pages, and watch KBC-TV videos with their family. Kids will find information about what it means to make Jesus their Forever Friend and play fun games to help remember what they've learned in club. Even Beach P.A.T.R.O.L. members will be able to keep up to date with prayer lists, important tasks, and informational updates. We really think this app will make life simpler for club leaders and volunteers, while helping parents and students stay engaged.
"We love our volunteers," said KBC Founder and President Jack Terrell. "We've had close to 23,000 men and women serve the Lord by making Him famous in public schools since we started in 2003. Anything we can do at the corporate level to help them with their calling as great commission disciples, we are excited to do," said Terrell. "We really believe this app will not only provide fingertip access to everything a volunteer needs in club, but will also provide parents what they need to have spiritual conversations in their homes, which is desperately needed in our communities today."
KBC-TV App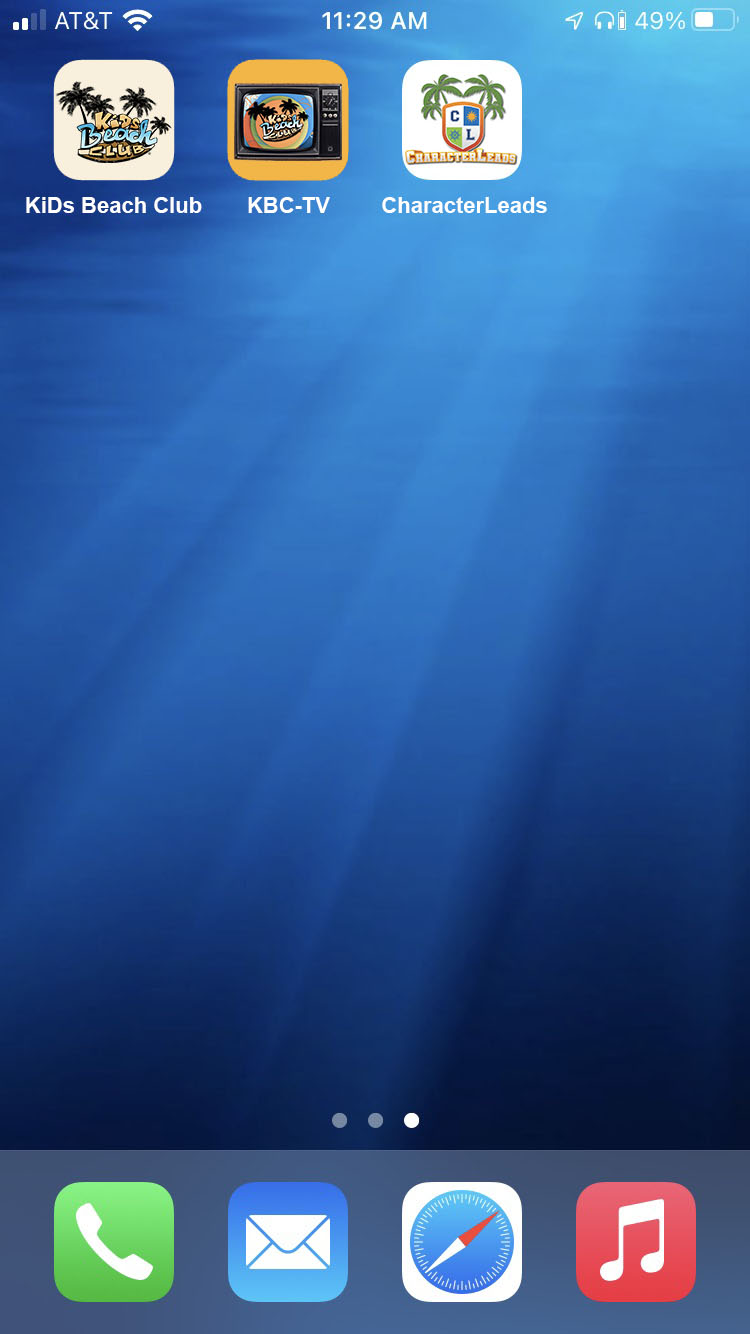 As KBC-TV becomes more accessible not only in the United States but all around the world, our hope is that viewers want to learn more and find additional ways to engage their families. That's what the KBC-TV app will bring. Besides being able to watch TV episodes whenever they want, those who download the KBC-TV app will also be able to find Hang 10 pages, learn how to form a club at their local school, and play games to help remember the lessons taught on each episode of KiDs Beach Club TV.
"The Lord has opened up so many doors for us to Christian TV networks, not just across the United States but all around the world," said Dave Crome, KBC's VP of Marketing and Communications. "With a potential viewing audience expected to surpass 500 million, for us to have a simple app to point kids and parents to with fun ways for families to engage in gospel conversations is a no brainer. We can't wait to see what the Lord will do with this!"
CharacterLeads™ App
Finally, our CharacterLeads app will make it easier for counselors and school administrators to start using the CharacterLeads curriculum in their districts. As a reminder, CharacterLeads™ is a new program for public elementary schools to use in their assemblies and classrooms to develop tomorrow's leaders by building character in children today. CharacterLeads™ uses video segments from the multi award-winning KiDs Beach Club TV as part of a new robust, non-religious, curriculum for teachers and school counselors to educate children around key character words--character concepts that link directly to effective leadership.
"Our elementary school teachers and counselors are already overloaded in their day-to-day responsibilities," said KBC Executive VP, Dr. Frank Banfill. "The more convenient we can make it for them to stream our videos to their screens, via the app, is a game changer. No other character education program out there provides 18 weeks of curriculum, with kids talking about application of each week's character word," says Banfill. "When the students in the classroom see kids on the video wrestling with applications of the character trait of the week, there is instant connection, which is invaluable to our educators today."
With easier accessibility and more opportunities to connect and engage, these apps will allow us to continue to mobilize and multiply the ministry of KiDs Beach Club in 2022.
If you would like to learn more about all three of these areas, check out the following websites.
After-School Bible Clubs - www.KiDsBeachClub.org

KiDs Beach Club TV - www.KiDsBeachClub.TV
CharacterLeads™ - www.CharacterLeads.com
If you have any schools or Christian TV stations you would like us to reach out to, please send us an email at info@kbcmail.org.
Published on Jan 24 @ 1:49 PM CDT