Most of the kids in the Beach Club at George Bush Elementary School in Addison, Texas, received a Bible on Great Treasure Day last fall, but a small group of kids, who started attending the club after the most celebrated day in club, were eager to get a Bible of their very own.
Donors like you, who support the KiDs Beach Club® Bibles for Beach Club program, raised enough money the last two years to allow us to incorporate a second Great Treasure Day in the second semester so that everyone attending the club who had not yet received a Bible, could have one. Prior to that, if a church partner wanted to provide new kids with a Bible, they had to do so at their own expense.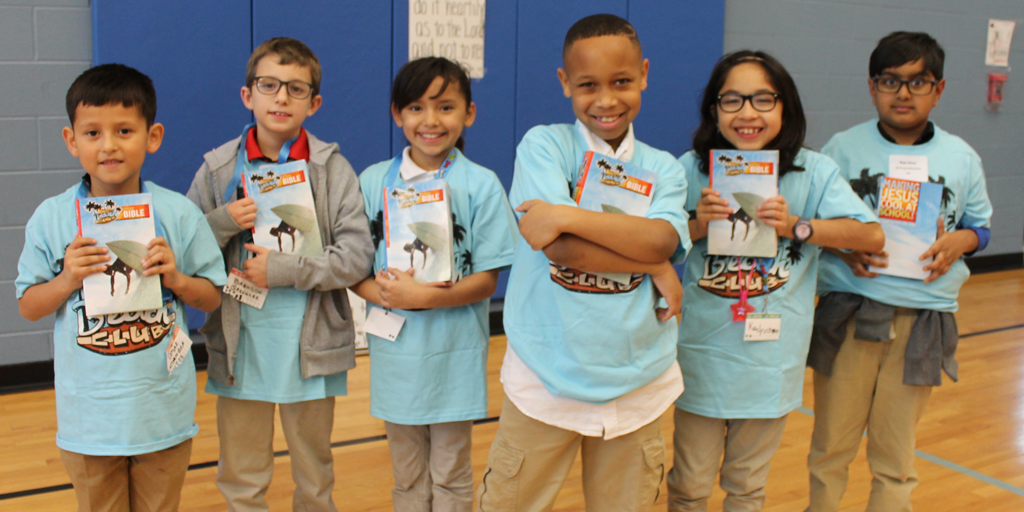 For the six new children who started attending Beach Club at George Bush Elementary after Great Treasure Day last fall, this second Great Treasure Day could not have come soon enough.
Volunteers from sponsoring church, Royal Haven Baptist Church in Farmers Branch, Texas, do a fantastic job of getting these kids excited for the day they would be given their own Bible. In the four weeks prior to Great Treasure Day this spring, children are taught how the Bible is the word of God and something to be treasured. The children who already had their KBC Study Bibles would faithfully bring them to club and also use them outside of club, which helps aid the excitement of the children yet to receive theirs.
"These kids are so excited to get their Bibles," Marty Earls, the church coordinator and family pastor at Royal Haven, said. "I wish we could have Bibles for them on day one, but with that anticipation of, 'When are we going to get our Bibles?' they are so excited when we have Great Treasure Day and we hand out their Bibles."
"It's cool because it has God's words in it, and God's words are in the Bible so we can read them all the time," said Kaelynn T. after she received her Bible. She is most excited about having time reading God's words and had already picked out John 3:16 to be her favorite verse. It helped that it was the verse she was asked to recite in front of the entire group that day.
Surf team leader Rick Gustafson has been volunteering at Dallas ISD's George Bush Elementary since Beach Club started there seven years ago. With confidence he said, "the happiest day of the year for each and every kid in Beach Club is Great Treasure Day, when they get their Bible."
Elijah C. could not stop sharing how thankful he was to receive his Bible. "I can't believe that I have my own book that came from God. I'm so happy. I thank God for it. Thank you!"
KiDs Beach Club® was a deciding factor for Earls when he was considering joining the staff at Royal Haven. In talking with the head pastor, he was told the church already was doing ministry in a local elementary school. Earls was shocked that they were able to be in the school doing ministry, and even more shocked when he learned the church was able to openly share the gospel and hand out Bibles because of its partnership with KiDs Beach Club®.
Earls recognizes the gift it is for their church to be given Bibles for every child in Beach Club at no extra cost to them.
"That's not (one of those) little paperback Bible(s)," Earls said. "This is a study Bible that has great notes and graphics and everything in it. KiDs Beach Club® has afforded us an opportunity that I do not think we would find anywhere else."
Thank you for your generous gifts each month to ensure that we are able to provide a Bible to every child in every Beach Club, and that it is valued by us and our church partners.
Published on Apr 09 @ 10:03 AM CDT