The burden on the heart of KiDs Beach Club® Founder and President Jack Terrell is to give every child in America a chance to hear about Jesus Christ.
"What child doesn't deserve to hear a clear gospel presentation?" Terrell often asks. Since 2003, more than 97,000 children have been impacted by the life changing message of Jesus Christ during a Beach Club in their public school but there are millions more to reach.
KiDs Beach Club® believes God is calling us to maximize our resources to make the biggest impact we possibly can in this generation. We believe that God has given us a proven model of reaching communities through public schools and that now is the time to multiply that model in ways that we've not thought possible before.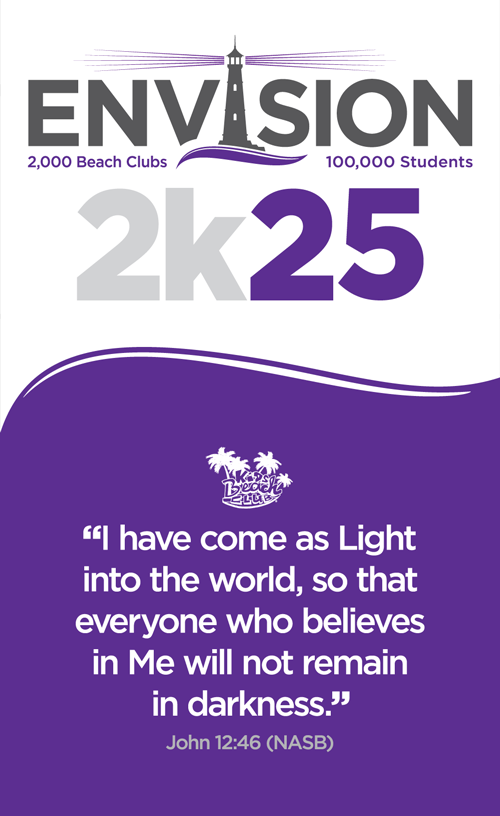 We believe that God is calling us to tenfold growth during the next five years and we have prayerfully sought His guidance for this five-year strategic plan called ENVISION2k25. This will allow KiDs Beach Club® to move from an addition ministry that adds a couple dozen Beach Clubs each year to a multiplication ministry that adds hundreds of new Beach Clubs annually and impacts 100,000 students and 2,000 communities through 25,000 volunteers on a weekly basis by January 2025.
"ENVISION2k25 is a bold step for our organization," Frank Banfill, KBC's executive vice president for strategy and organization growth, said. "It really focuses us on growing through multiplication, which is greatly needed if we are going to take advantage of the incredible opportunities we have right now in public schools. I'm asking all KBC friends, volunteers and partnering churches to join with us in prayer for this endeavor."
As a way to accomplish our goals, we will launch four new programs and one new project:
Elite Volunteer Program
Volunteers who will help administrate the field ministry


Church-to-Church Mentoring Program
Veteran KBC church partners help new KBC partnering churches launch and grow their clubs


Internal Leadership Development Program
Systematic training and development of KBC leaders and managers


Point of Entry Donor Development Program
Systematic approach to introduce KiDs Beach Club

®

to potential donors


Reorganized Training Project
Revamping how KiDs Beach Club

®

trains clubs and volunteers in order to accommodate club growth


To look at all the details of this exciting and aggressive growth plan, please visit the ENVISION2k25 page on the KBC website by clicking here.
While much of the program appears to position KiDs Beach Club® for expansion, the focus remains on reaching students and their families with the gospel of Jesus Christ. The Great Commission tells us to go and make disciples of all nations, baptizing them in the name of the Father, the Son and the Holy Spirit, teaching them to observe all things Christ commanded us to do.
There needs to be urgency in sharing the gospel, so that kids and their families hear it before Christ returns. More than 60 percent of students who enroll in Beach Club do not regularly attend church, so we're letting our culture teach them what is right and what is wrong.
Our public schools are dark places that need the Light. Your church can shine the light – the Light of Christ – in the darkness of our schools and our communities.
In John 12:46 (NASB), Jesus said, "I have come as Light into the world, so that everyone who believes in Me will not remain in darkness."
Many of our communities are like harbors in the night; harbors full of rocks, fog and darkness. They are dangerous. Jesus is like a lighthouse providing all a light to focus on to help navigate dangerous waters. It's time to light up our communities and force darkness out.
Published on Jul 26 @ 5:15 PM CDT