Tickets for the 2019 Bibles for Beach Club Benefit Dinner are now on sale. The event, which raises money to give a Bible to every child in every Beach Club, returns to the Grand Ballroom at Texas Motor Speedway Saturday, April 13.
Your past support of the Bibles for Beach Club program has put a Bible in the hands of 38,988 children since Great Treasure Day began in 2015. That's nearly 65 percent of the more than 60,000 Bibles KiDs Beach Club® has handed out since the ministry began in 2003.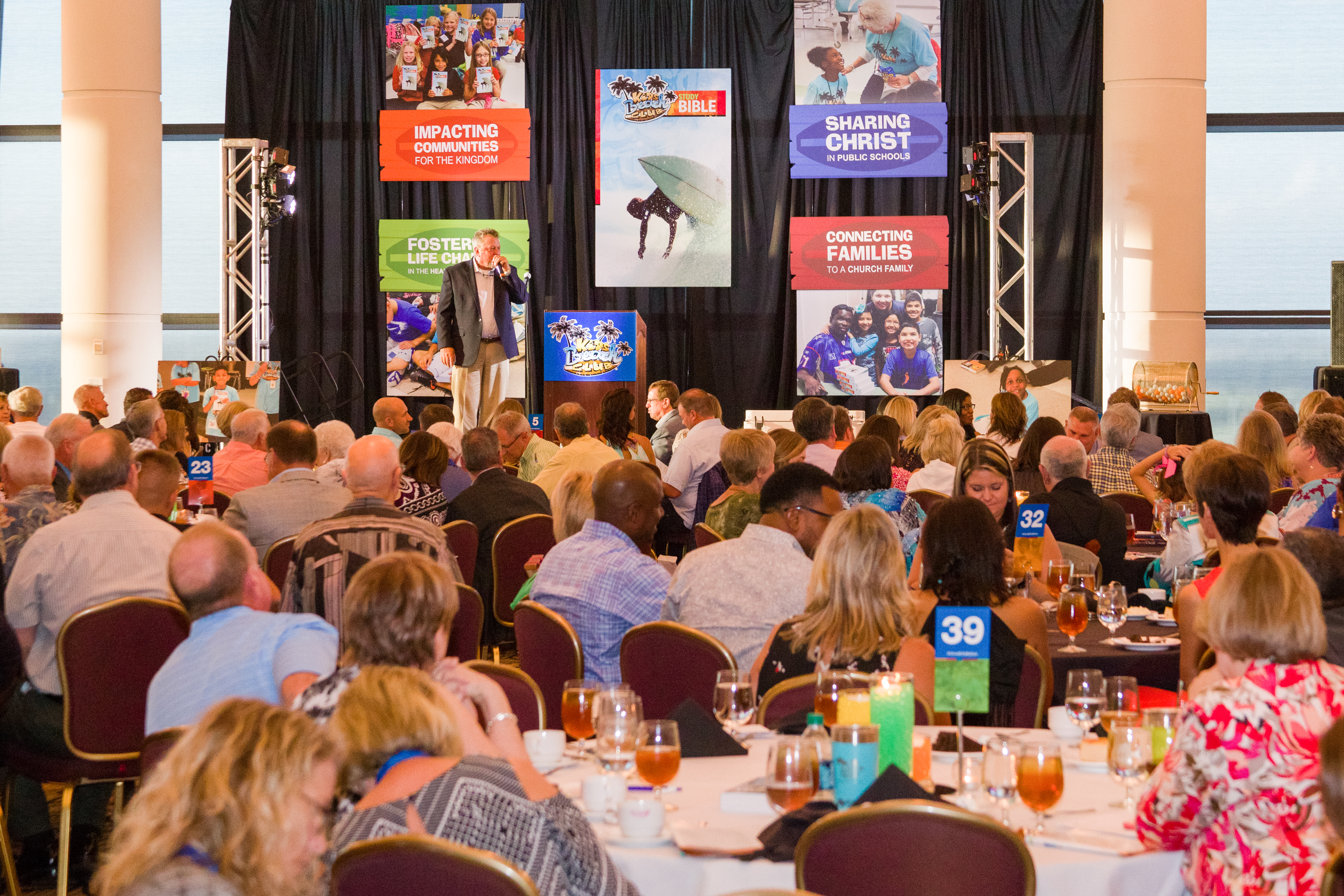 At our last Benefit Dinner in July 2017, you helped us raise money to buy 10,500 Bibles. The last of those Bibles will be handed out this spring, making your support at this year's Benefit Dinner crucial for our growing ministry. We anticipate our next order to be between 15,000 and 20,000 Bibles, but that number depends on you!
Join us for a night of great food, fun and fellowship as we celebrate people of influence, all for the benefit of connecting kids to Christ and putting Bibles in their hands.
Dr. David Vroonland, the superintendent of the Mesquite Independent School District, will be the keynote speaker. An educator of more than 30 years, Vroonland has been vocal about the benefits Beach Club brings to his district and continues to say that his desire is to have a Beach Club in all 33 Mesquite ISD elementary schools. Currently, there are Beach Clubs in 19 elementary schools in his district.
You will also hear from Dr. Jeff Thompson, the director of missions for the Concord Baptist Association, who was instrumental in our ministry's growth in Arkansas, our 11th state. In the 2017-18 school year, KiDs Beach Club® launched in Arkansas with one club in Fort Smith. With his vision, Thompson helped KiDs Beach Club® grow into seven schools this year.
In addition to a wonderful program, we'll again have the popular Pick & Play, Dine & Dash and Last Man Standing games throughout the night and feature a live auction after dinner. There will be many ways for you to support our Bibles for Beach Club program and to make an impact in the lives of thousands of kids in Beach Club.
We hope you will invite your friends so you can introduce them to a ministry that is so incredibly important to you and that is making a tremendous impact in the lives of the children it touches.
To join us, visit KiDsBeachClub.org/Dinner for more information and to buy a table. A full table seats 10 people. We also have options to buy a half table and single tickets. When you buy or sponsor a full table, it comes with one pace car ride before dinner. Additionally, we offer sponsorship packages if you, or someone you know, want help underwrite this event so that all money raised that night can make an even greater impact in the lives of kids and their families.
If you can't join us at the Benefit Dinner, you can still donate Bibles today at KiDsBeachClub.org/Bibles.
Published on Feb 13 @ 9:27 AM CDT