Great Treasure Day, the day kids in Beach Club receive their very own Bible, is a special day to countless children. It's a day they will treasure and remember for years to come. However, if a child misplaces or loses their Bible, they are saddened at the loss of their prized possession.
That is exactly what happened to a little boy who attends Beach Club at his public elementary school in Mesquite, Texas.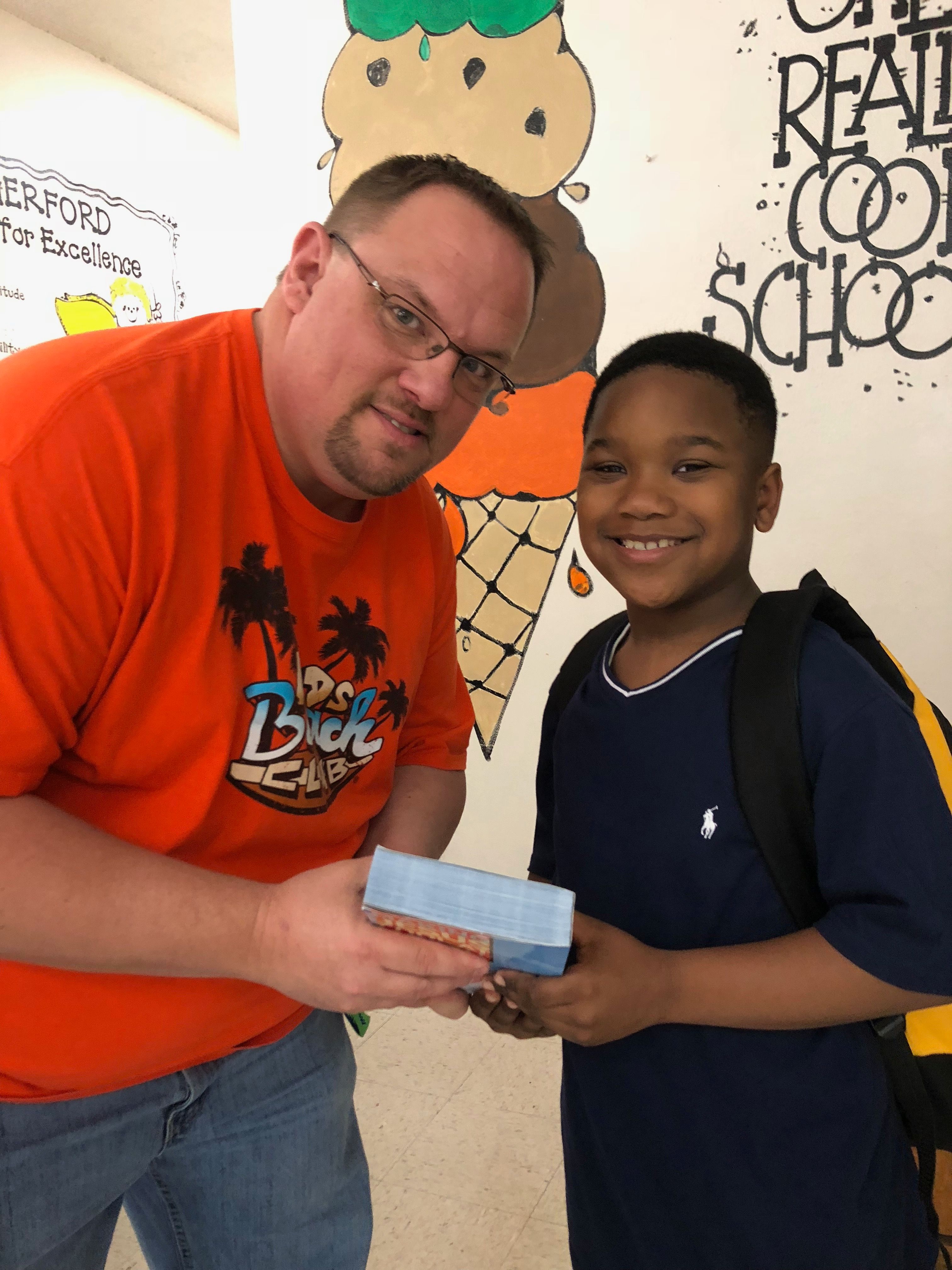 James P., who goes to Beach Club at Rutherford Elementary School, came to Beach Club one Wednesday without his KBC Study Bible. When asked where his Bible was, he told the club leader and the other volunteers from Mesquite Church of Christ, the KBC partnering church, "I can't find my Bible."
He said he put his Bible in his backpack, "but it's gone."
James was shocked to realize his Beach Club Bible was missing from his bag, and sad he didn't have it for club that day.
Aubrey Eudy, the club leader, encouraged James to look again at home, suggesting he probably just misplaced his Bible. But, Eudy assured James that if he went home and again couldn't find his Bible, Eudy would get him another one.
James did as he was told and looked all around the house for his Bible. The next day at school Eudy just so happened to be working on something on campus and James ran into him in the hallway before the school day began.
Eudy inquired with James to see if he found his Bible. James replied, "Yes! I did!" Eudy asked where it was. James replied, "My parents had it and were reading it!"
Eudy told him to let his parents keep that Bible and he would get him a new one so his parents would have a Bible to read and James could have one to bring to club and read, too.
"The excitement on his face to know he had a Bible of his own and his parents would have a Bible of their own, it was cool to see that," Eudy said about the turn of events.
Eudy spoke of the excitement he sees in the kids that come to Beach Club, and how the parents of those children see the excitement and want it, too.
"The parents want to know who Jesus is," Eudy said.
Eudy is going to be able to not only connect with James, but also his parents, all because of this interaction over a KBC Study Bible.
The club's volunteers are thankful for the ways KiDs Beach Club® allows them to minister and be a part of sharing Jesus in a public elementary school.
"A lot of the volunteers that we have here think it is the coolest thing to know that Jesus is still in public schools and knowing that its making a difference in kids' lives, so I just want to thank you for supporting this ministry," Eudy said.
They are thankful for the support of donors like you who make it possible to give every child in every Beach Club their own KBC Study Bible.
Published on May 02 @ 12:58 PM CDT