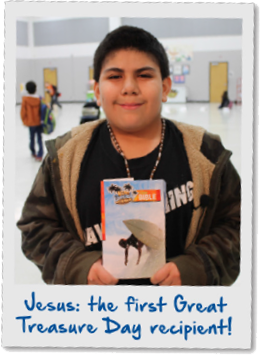 The 2015-2016 school year is absolutely going to be a banner season in the life of KiDs Beach Club®. We have expanded our staff and continue to take on new church partners. Plus, we are celebrating the 10th anniversary since our first Beach Club launched in 2006. We enter the year full of emotion, having served in hundreds of different communities since then; it's hard to believe KBC will be celebrating 10 years of ministry in January.
A question that is often asked is, "Where does the resolve to remain dedicated to ministering to children within public schools come from?" Early in our ministry the Lord gave the staff a verse from the book of Revelation that reveals a great promise to "an open door" provided we keep His word and NOT deny His name. It is our desire to doors at more than 200 elementary school open to making Jesus Cool at School!™
"I know your works. See, I have set before you an open door, and no one can shut it; for you have little strength, have kept My word, and have not denied My name." Rev.3:8 (NKJV)
In just a few weeks, you will have an opportunity to help us grow even more. We are asking all of our KBC family and friends to graciously give a donation on North Texas Giving Day on September 17. God continues to open doors, and we need your support that will allow us to continue our amazing growth path that helped us expand by more than 15 percent last year. With your help, we distributed nearly 11,000 Bibles last year alone. In our first 10 years, a total of 6,359 children have made Jesus their Forever Friend. God is paving the way for KiDs Beach Club® and we need your continued support to assist with the cost to equip, screen and train thousands of volunteers
On September 17, to help motivate your giving, KBC is honored to announce a matching donor. The first $10,000 you give to KBC will be matched dollar for dollar. This enthusiastic donor believes in and faithfully supports our mission and vision.
If you are one of our many Bibles for Beach Club Benefit Dinner and Auction supporters, that event which usually happens in September, has moved to April 16, 2016. Since we won't have a dinner and auction this year, we are asking if you would consider making your 2015 tax-deductible gift on September 17 as part of North Texas Giving Day. We need your help to fill in the gap.
As a result of your generous giving last year, KBC started Bibles For Beach Club, which provides a KiDs Beach Club® Explorer Study Bible, to every child in every Beach Club. 10,886 children received their own copy of God's Word. An amazing story unfolded at the very first "Great Treasure Day" on February 3, 2015 at Highlands Elementary School. When the Bibles were being staged for distribution, they were stacked by each child's small group and not alphabetically. The very first name to be called was Jesus O! Only God could have orchestrated such an event; that out of so many children and so many Beach Clubs, the name of the first recipient would be the same as His Son, Jes
While nearly 11,000 children will attend Beach Clubs this year, there are millions still to reach. We're not stopping until Jesus returns. Please partner with us! For more information visit our Giving Day website.


Published on Sep 02 @ 9:09 AM CDT