The idea of reaching Beach Club families has been on my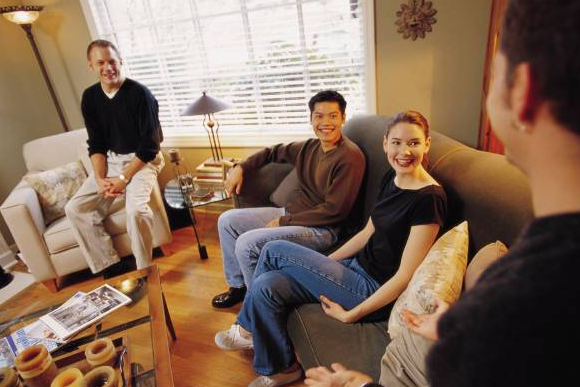 wife's heart since we started doing a Beach Club at Stonegate Elementary in the Spring of 2004. We would often talk about the importance of connecting with these families but every time my wife, Michelle, would bring up the subject I always felt that we were too busy.
I had the privilege of speaking at a 6 Stones event at the school called "Night of Wonder" where I saw many of these Beach Club families hurting and in need of help. I told Michelle at that time I was on board with doing anything we could to help reach our neighbors.
Our church, First Baptist Church of Euless, was in the beginning stages of starting an outreach ministry called Community Groups. We thought this would be the perfect way for us to be the hands and feet of Jesus in our neighborhood. We decided to host a Community Group in our home and we called Keith and Becky Lewis to partner with us. Together were able to get the word out to all of the families who have children that attend the Beach Club at Stonegate Elementary. We met 3 weeks in a row and prayed together, asking the Lord to help us reach our community. After we would meet, we visited the homes of the Beach Club families giving them a small gift and inviting them to a Christmas party on Dec 16th. God blessed us with 12 families that evening; we ate, went caroling and told the Christmas story. At the end of the evening we presented the idea of starting a Community Group in our home that would meet every other Sunday starting on January 20th and invited them to join us.
When January 20th rolled around we were thinking we were only going to have a few people actually show up but by the time we got started, there were 9 families, with 6 of those families not having a church home. God blessed us more than we could even imagine and we are eternally grateful for His favor on this group. Every family that came told us how much they appreciate what we do at their children's school and for opening up our home to them. The Community Group continues to encourage us and we are so excited to see what God is going to do in and through us and our new friends.
My challenge to you is don't be like I was and think that you are too busy to help those in need no matter what you are doing. Always be on the look out for ways that you can be the hands and feet of Jesus to your friends and neighbors. I believe that is what each one of us is called to do in this world.
May God Bless Your Day!

Russell Gregory
KBC Executive Director
Published on Feb 23 @ 9:18 AM CDT