KiDs Beach Club® would like to extend a sincere word of thanks to everyone who joined us at our Bibles for Beach Club Benefit Dinner July 14. The event, which was held at The Speedway Club at Texas Motor Speedway, raised enough money to purchase 14,000 Bibles to place in the hands of children.
The evening kicked off with pace car rides around the speedway's mile and half oval. A meet-and-greet with keynote speaker Lee Strobel followed. During this time, Strobel and his wife, Leslie, spoke with guests, took pictures and signed copies of The Case for Christ, which he authored.
While both of these took place outside of the Grand Ballroom, inside the main room was an array of activity. Two popular activities were the Dine & Dash and the Pick & Play, in which guests purchased a decorative plate or a Bison tumbler for the chance to win a variety of gift cards to restaurants and experiences.
There were also three raffles to choose from, including a custom rifle and two vacations – one to Florida and the other to California. Finally, guests could stop by the photo booth to take a picture and commemorate the evening.
The official program began with Texas Motor Speedway President Eddie Gossage welcoming guests to the track before offering the prayer formally start the event. Chris Krok, a talk-show host on WBAP-AM Radio in Dallas-Fort Worth, took the stage and began his emcee duties for the evening.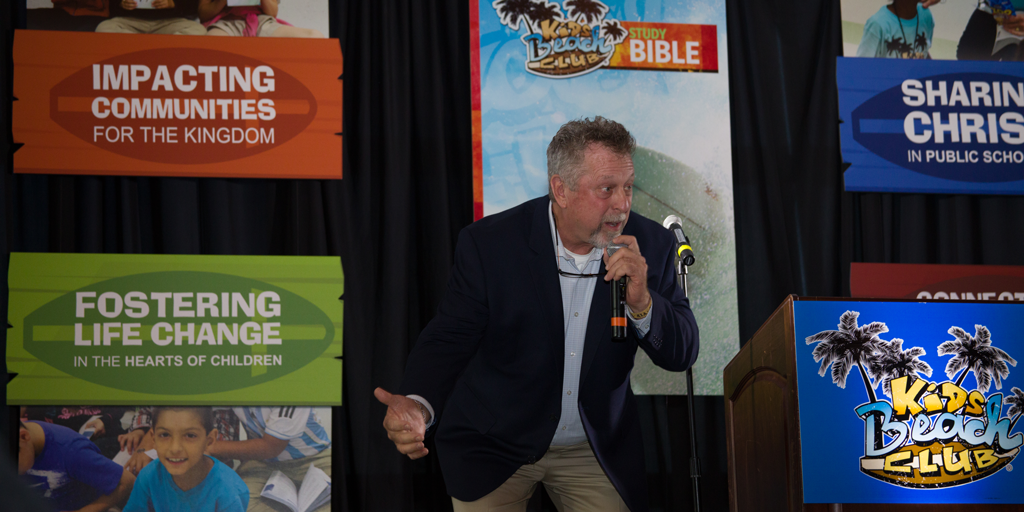 Guests then had another opportunity to participate, this time in a live auction. Auctioneer Loyd Sawyers made this an exciting time, auctioning off such items as trips to the Rocky Mountains and Cabo San Lucas, buck and hog hunts, sports ticket packages, an autographed Dirk Nowitzki jersey and a custom Alamo precision rifle.
Strobel then took the stage, delivering an inspiring keynote address. He spoke about the importance of KiDs Beach Club® to a generation that is experiencing a crisis of faith. He encouraged donors, explaining that their gift would have a ripple effect through future generations, suggesting that people 100, even 200 years from now would be impacted by the child who received a KBC Explorer's Study Bible and began down God's path, rather than a path of sin and immorality.
Following was the story of Miley the Missionary and how, through her attendance, changed the course of a new Beach Club in Missouri. Jungs Station Baptist Church began sponsoring a club at Harris Elementary School in St. Charles, Mo., but for the first four weeks, no children showed up. It appeared the trend would continue into the fifth week until Miley and her mom showed up just before Beach Club was scheduled to conclude. These faithful volunteers learned a lesson in perseverance. Their reward came when Miley began inviting friends to join her in club.
The emotional story led into a plea for attendees to support the worth-while cause of giving kids Bibles. Donations began pouring in and visibly moved Jack Terrell, the ministry's founder and president.
All in all, it was an amazing evening.
"From the beginning of the night with pace car rides," Sawyers said in summation. "We shared scripture and smiles with people, and everybody was just excited."
Amazed, he added, "Nobody left tonight. That's unusual… they want to be a part of God's plan right here with KiDs Beach Club®."
Published on Jul 26 @ 4:36 PM CDT