If you attended the Bibles for Beach Club Benefit Dinner April 13 at Texas Motor Speedway, you may remember hearing a short message from John Kramp, the senior vice president for Bible distribution at HarperCollins Publishing.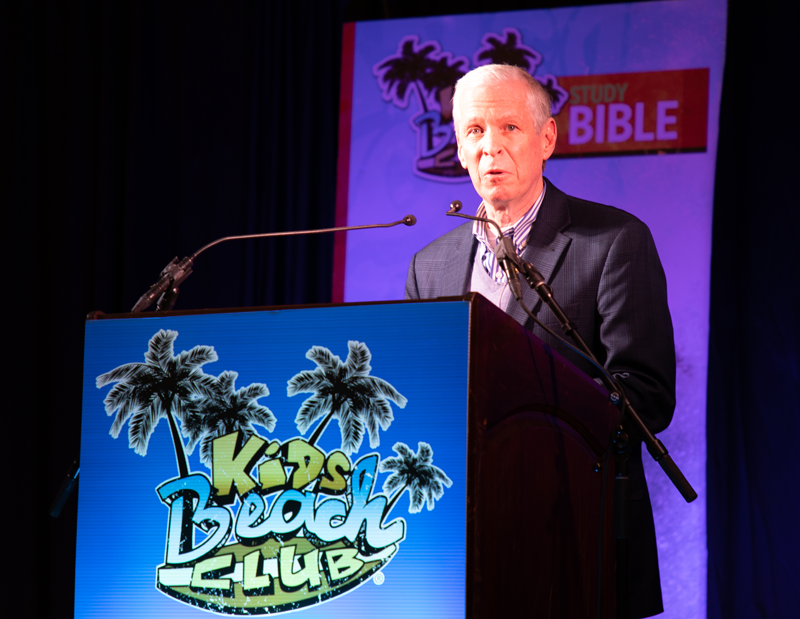 That's the parent company of Tommy Nelson, which partners with KiDs Beach Club® to produce the KBC Explorer's Study Bible. He asked the crowd of nearly 450 attendees to fill in the blanks of Psalm 119:11. "Your word I have hidden in my 'heart,' that I might not 'sin' against You."
"How is it that so many of you know that verse?" he asked. "I thought about that today.
"I'll tell you why I know it," Kramp said. "It's because, along the way, I had access to the Bible. I had access not only to a Bible just in any form, but a Bible that I could understand. But more importantly, I had access to people who helped me hide that word in my heart.
"That's what we're doing tonight," he told the crowd. "We're trying to put God's word in kids' hands. We're trying to give them a copy of the Bible they can understand and we're supporting a ministry where people are helping children hide God's word in their heart."
That is what you are helping KiDs Beach Club® do in a growing list of nearly 200 Beach Clubs in 11 states. We're connecting kids to Christ and putting Bibles in their hands! You are helping to enable nearly 2,700 volunteers to share the gospel and teach biblical character in our weekly, after-school Bible clubs.
"Being able to come into this school on a weekly basis and teach God's word and teach who He is to these kids is an amazing and unique opportunity," said Katherine Criswell, a Beach Club volunteer at Mohawk Elementary in Richardson, Texas.
Your support of our ministry allows us to give a Bible to every child in every Beach Club at no cost to our partnering churches or families. In most instances, those Bibles are the first Bible a child has ever received and in some instances, it's the only Bible in their home.
During the 24 weeks of Beach Club, our trained volunteers use our Bible-driven curriculum, which is written specifically to point kids to their KBC Study Bible six times during every one-hour Beach Club. Each Bible story is assigned a character word and memory link (or Bible verse) that best compliments that story.
At the end of every Beach Club, children are given a take-home card with the memory verse on one side and the corresponding character word (and definition) on the other. Additionally, each child receives a "Hang 10" page that connects that week's lesson to a daily plan allowing kids and their families to spend 10 minutes daily reading God's word or in prayer.
When we fill our hearts and minds with God's word, it helps foster spiritual growth and guards against a secular culture that often times seems overly negative and increasingly ungodly. It will guard against things that hurt us and displease God. Keeping His word inside our heart fills it with the wisdom of God and leaves little room for sin and other worldly wisdom. We each have a responsibility to guard our heart and to keep track of the things we hide inside it.
The KBC Explorer's Study Bible presents God's word in a way kids can understand and enjoy reading. Tommy Nelson is a fitting partner in helping KiDs Beach Club® produce and distribute Bibles that speak to kids on their level.
After getting her own KBC Study Bible, a girl in Beach Club at George Bush Elementary in Addison, Texas, said, "It's cool because it has God's words in it, and God's words are in the Bible so we can read them all the time."
Another child in the same Beach Club could not stop sharing how thankful he was to receive a Bible. "I can't believe that I have my own book that came from God. I'm so happy. I thank God for it. Thank you!"
You are the reason why not only those two kids have a Bible, but why we are able to put a Bible into the hands of every child in every Beach Club. You are making it possible for kids to learn God's way at this young age, providing a resource that will help and sustain them throughout their lives.
To God's glory, we have been able to put more than 61,000 Bibles into the hands of children since 2003. We have already placed an order for another 10,000 Bibles thanks to contributions made at the Bibles for Beach Club Benefit Dinner earlier this month.
You are making this possible and for that we celebrate!


John Kramp, HarperCollins Senior VP for Bible Distribution from KiDs Beach Club on Vimeo.
Published on Apr 26 @ 9:17 AM CDT