While some Leadership Luaus have already taken place, every volunteer should make plans now to attend remaining Luau events in the month September to help them get ready for a new year of KiDs Beach Club®.
Leadership Luau is a high-energy time of worship and celebration for Beach Club leaders to connect with other leaders in clubs near them. Leadership Luau is not a typical training event, but an exciting time to get recharged and ready to achieve the mission of giving every child a Jesus experience inside their public elementary school.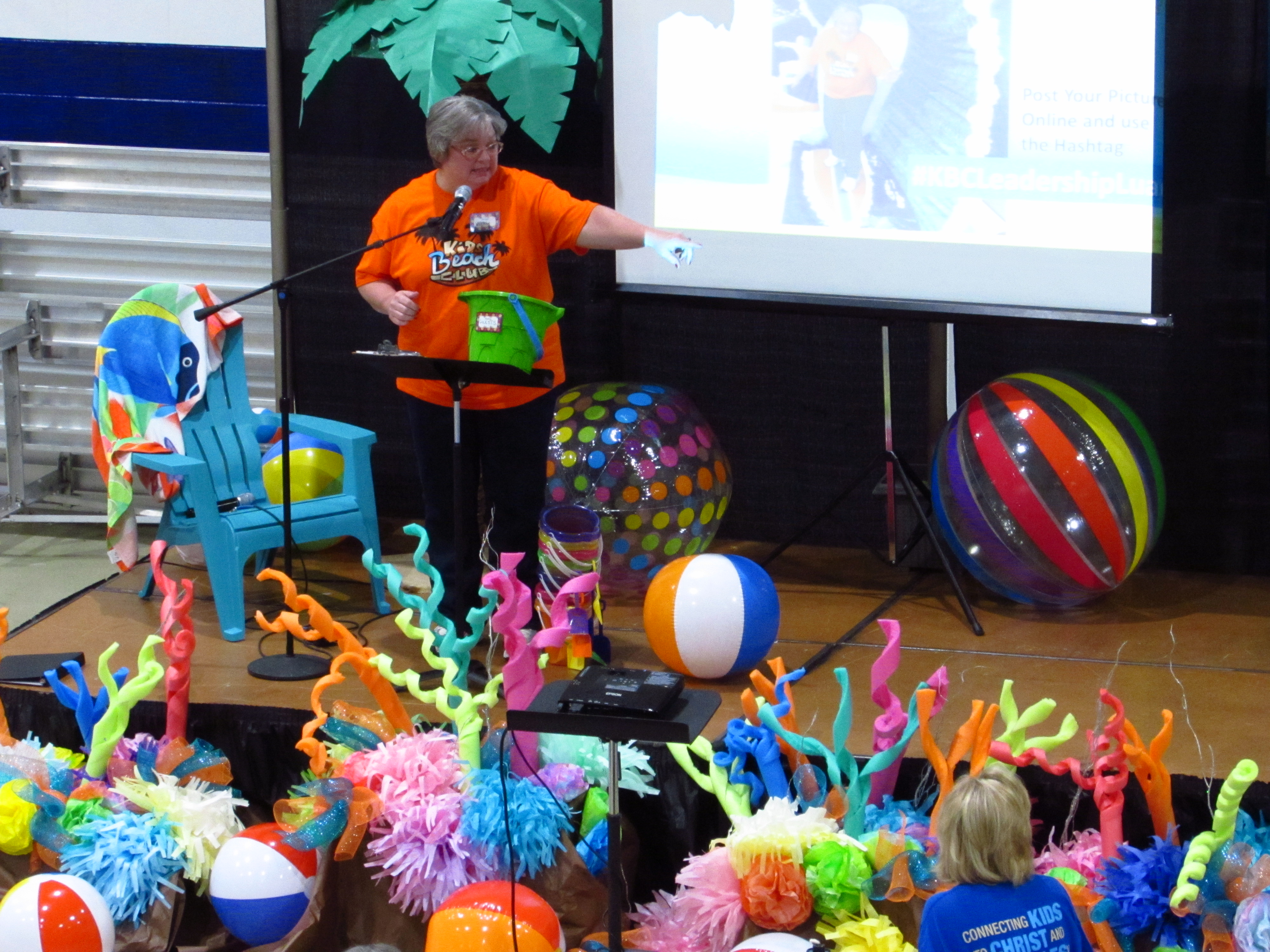 A lot of hard work goes in to preparing for Leadership Luau, however Vickie Sneed, a club relations specialist in Tennessee, went all out to create a masterpiece of decorations to set the mood for a fun day of training for the Leadership Luau in Bartlett. Sneed spent countless hours planning and crafting the luau.
"Hopefully I'm sending a message to our volunteers that they are important and worth the time it took for decorating," Sneed said.
"My hope is that when they walked in and saw the decorations, their mood was lifted and excitement and energy filled the air. I want each volunteer to be encouraged, motivated and eager to embark on another year of KiDs Beach Club®."
She and a team of nine others got together at church for a full craft day in the time leading up to the Leadership Luau. They painted several surfboards, created palm trees from carpet rolls, turned close to 100 pool noodles into an extravagant coral reef, crafted more than 100 flowers from tissue paper and coffee filters and so many other fun decorative projects. They went as far as to build a surf shack for refreshments, several beachside scenes, a beach ball arch and a life-sized ocean wave for attendees to document in photos to share on social media.
David Riggs has volunteered for three years at the Beach Club at Lakeland Elementary in Lakeland, Tenn., and has attended Leadership Luaus previously. On the practical side, he loves getting all the new information at one time with the volunteers from all of the other Beach Clubs in his area. In that everyone is gathered together for the training, a highlight for him is getting to meet the new volunteers he will be serving with for the upcoming school year in his Beach Club.
Evelyn Davis, who has been a volunteer for two and a half years at Ellendale Elementary in Bartlett, Tenn., wouldn't miss Leadership Luau. When asked why she attends she said, "Because of all the information I glean from the people sharing." She especially loves to hear from other volunteers and club leaders about their experiences in Beach Club and the encouragement they have for one another.
Davis serves her Beach Club as a decision counselor, which is someone who talks with children about making Jesus their Forever Friend. She encourages others to attend because "Leadership Luau gives me enthusiasm for sharing Jesus with the children."
Leadership Luau provides the opportunity for volunteers to gather together and get excited about sharing Jesus with children.
"Seeing the potential impact of reaching kids for Christ through Beach Club is motivating and uplifting," Sneed said.
In addition to providing an opportunity for you to connect and share ideas with fellow volunteers, top-notch KBC leaders are eager to share three new promotion and registration tools designed to grow your club and streamline the registration process:
New online registration
Individual web pages for every Beach Club
New tools to promote your Beach Club
If you have not yet registered for Leadership Luau, go to kidsbeachclub.org/luau to locate and register for an event near you. You won't want to miss this time of worship, celebration and learning!
Published on Aug 31 @ 10:29 AM CDT