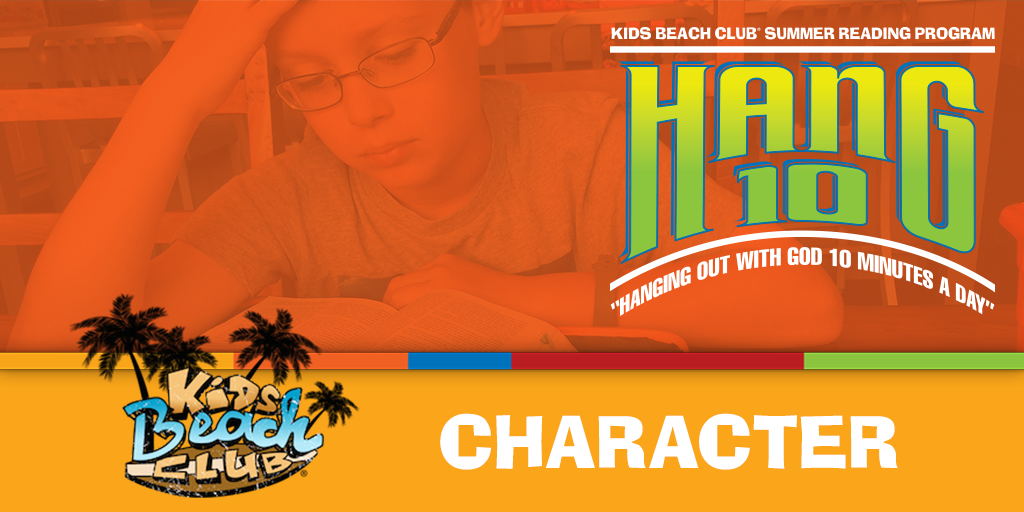 The KiDs Beach Club® "Hang 10" Summer Reading Program is about to enter its final month! It's designed mainly with the Beach Club kid in mind to continue reinforcing the habit of spending 10 minutes every day with God, reading His word or in prayer.
For the past nine weeks, we've explored a different character word each week, learning what the Bible says about them and how to apply them to our lives. During August, we will explore five additional character words: Dependability, Respect, Self-Control, Courage and Contentment.
Download the final five weeks of the plan.
The reading plan isn't just for kids. It's for everyone. We invite KBC volunteers as well as the siblings and parents of Beach Club kids to participate. We encourage you to forward it to anyone looking to spend more time immersed in God's word.
The Summer Reading Program continues through August and you can always go back and see what you might have missed by visiting our website. God loves you and invites you to meet with Him by reading the Bible and praying.
Do you know Jesus personally? Has there ever been a time in your life when you asked Jesus to forgive you of your sins and place your faith in Him alone to save you? If you haven't, it's as simple as A-B-C! ADMIT you have sin. BELIEVE Jesus died on the cross to save you and forgive you of your sins. And make the choice to CHOOSE to follow Jesus by inviting Him into your life. You can read more about the A-B-C's on the tip-in pages of your child's KBC Explorer's Study Bible between pages 626-627.
We want to encourage you to call KiDs Beach Club® and let us know if you have questions or if you have something we can pray about for you. Please share your story of how KiDs Beach Club® or your child's KBC Explorer's Study Bible has impacted your child, yourself or your family. You can even send us photos of you and your children reading their KBC Study Bible to news@kbcmail.org. We would love to hear from you.
Published on Jul 26 @ 5:16 PM CDT