Thank you to everyone who participated in North Texas Giving Day! Your support is valuable to our ministry and is helping connect kids to Christ and put Bibles in their hands.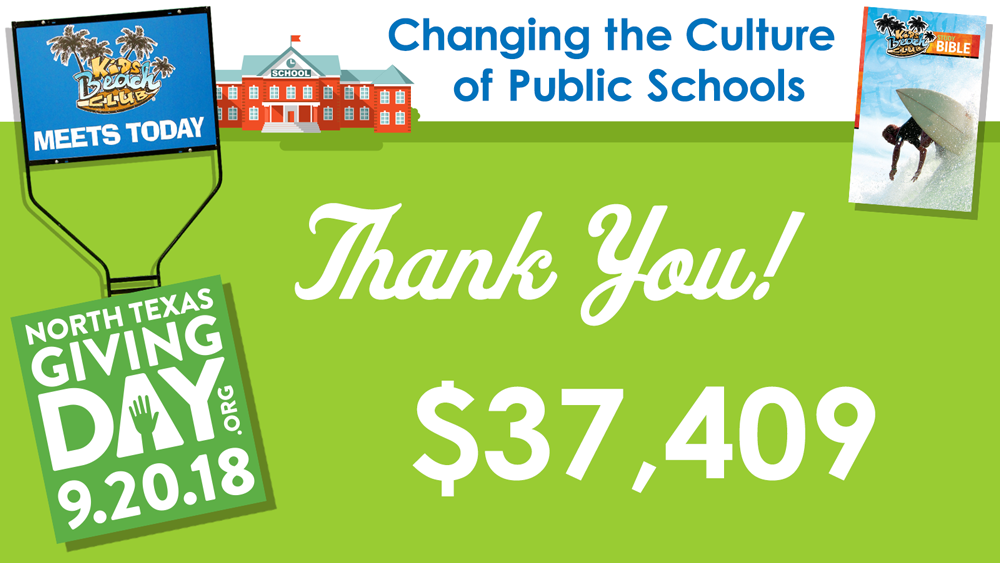 Because of your participation, we were able to raise $37,409, surpassing our ambitious goal of $30,000. Several of you made gifts on the North Texas Giving Day website, but others donated to our website, mailed in checks or joined us at Texas Roadhouse in Bedford and Mesquite, Texas, where a portion of that night's sales were donated back to KiDs Beach Club®.
Of course, that total also includes a generous gift of $10,000 that was provided to us by a passionate donor of our organization to be used as a matching gift, helping double our first $10,000 given to KiDs Beach Club® that day.
Your gifts allow our volunteers to share the gospel with kids, teach them biblical character and provide them with their very own copy of God's word, which often times is their very first Bible. In some instances, it's the only Bible in a child's home.
We had a full slate of activities on North Texas Giving Day that started at 4:30 a.m. with a small group representing KiDs Beach Club® at Victory Park in downtown Dallas and ended after 10 p.m. when Jack Terrell, our president and founder, wrapped up an appearance on a local radio station. Watch Now!
If you tuned in to News 8 Daybreak on WFAA-TV that morning, you probably saw our motley crew wearing Hawaiian shirts near a guy holding a KBC surf board and with pictures of kids showcasing their KBC Bibles. Shortly after that show ended, Tammy Terrell, Jack's wife and our club relations director, appeared on Facebook Live with WFAA and told them all about our ministry that is making a difference in the lives of kids, their families and their communities and how we are trying to change the culture of public schools. Throughout the day, we shared video from other staff members and went live on Facebook on multiple occasions, including one time that joined Jack and Tammy Terrell inside the Beach Club where they serve at Viridian Elementary in Arlington, Texas.
We mentioned Jack's appearance on the radio, but earlier that night, Dr. David Vroonland, the superintendent of schools for the Mesquite Independent School District, joined the Chris Krok Show on 820 AM WBAP in Dallas to discuss his desire to have a Beach Club in all 33 of the elementary schools in his district. Listen Now!
Vroonland, who will be a featured speaker at the next Bibles for Beach Club Benefit Dinner April 13, 2019 at Texas Motor Speedway, understands the importance that faith and love play in the development of a children. He says they are just as important as a quality education, which his district is providing.
While children may feel loved at home, some may not. He says that what KiDs Beach Club® provides for kids who attend our after-school program in the 19 schools in Mesquite, as well as 161 other clubs across the country, is a foundation of faith. Those kids also feel the love of volunteers, who weekly model the love of Christ.
We encourage you to visit our Facebook page to hear his full interview or to watch Jack Terrell's interview on the Chris Krok Show. All of our North Texas Giving Day content on Facebook is still available.
Your generosity is appreciated. In times like these, the work you're helping us do is more important than ever. Thank you for helping us make an eternal impact in the lives of children.
If you did not have a chance to make a gift on North Texas Giving Day, please know you can support us anytime at kidsbeachclub.org/give.
Published on Sep 26 @ 2:36 PM CDT