Since KiDs Beach Club® first began in 2003, teaching children about God's word has been the focal point to giving each child a Jesus experience inside their public elementary school. From 2003 through the fall of 2014, only one Bible was given to a child in each club each week the club met.
Beginning in the spring of 2015, giving every single child in every Beach Club their very own copy of God's word became a priority. This special day of Beach Club became known as Great Treasure Day.
This month KiDs Beach Club® celebrated a very special Great Treasure Day as we handed out our 50,000th Bible since that very first Bible back in 2003.
After weeks of anticipation and watching the tally of Bibles given to kids climb on the front page of the ministry's new website, it was projected that the 50,000th Bible would be given away on October 10 at the new Beach Club at Gilbert Elementary, which is the second club to be sponsored by Christ Church Irving.
Gilbert Elementary had dozens of children in attendance for Great Treasure Day. All were giddy and excited to receive their new Bibles. What they didn't know before they arrived that afternoon was one of them would be the 50,000th child in the history of KiDs Beach Club® to receive a KBC Explorer's Study Bible.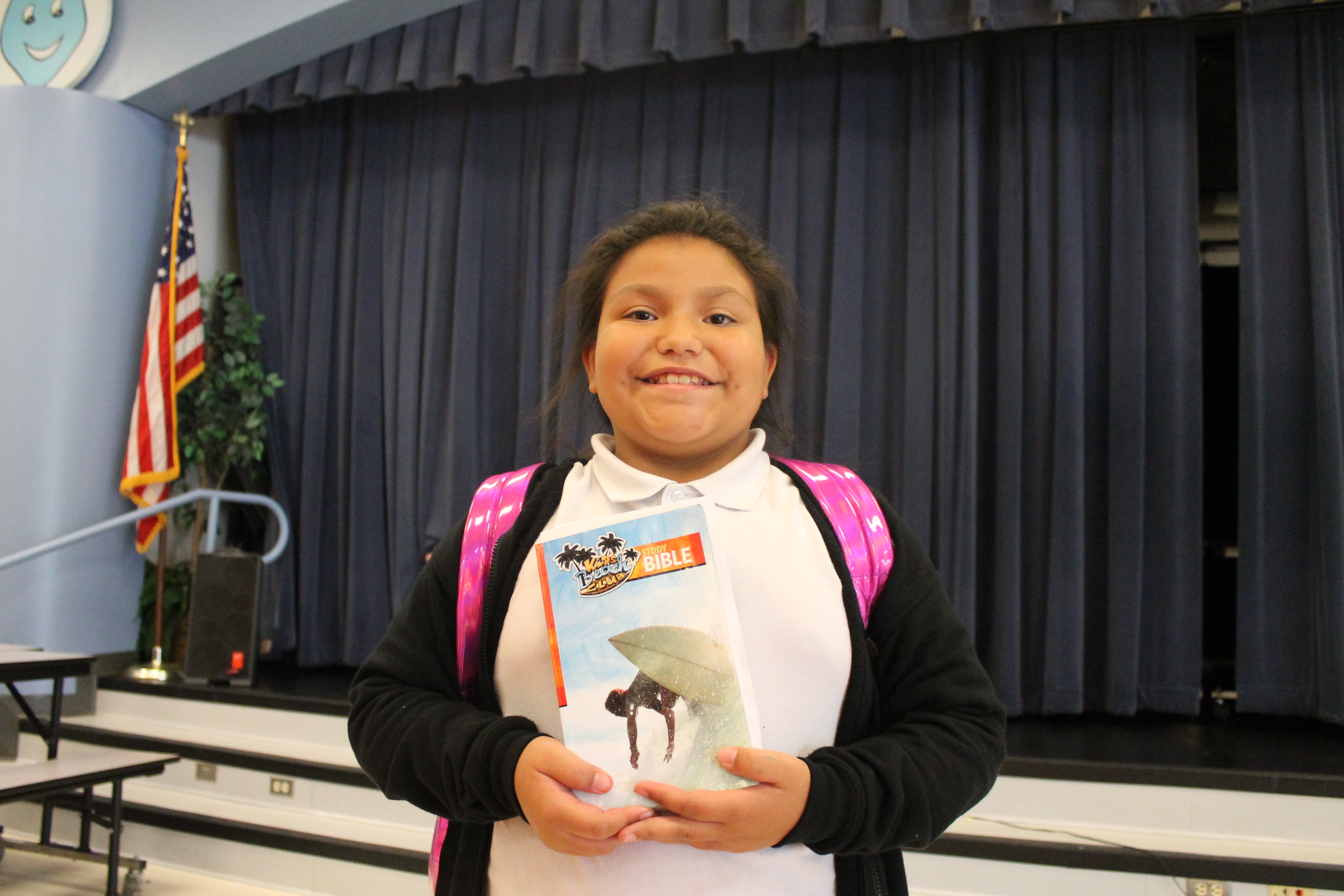 When it came time for the presentation, the room full of volunteers, kids and KBC corporate staff cheered as each child received their new Bible. After several were handed out, Beach Club leader Molly Greenlee announced the very next Bible would be the milestone 50,000th Bible, and that Bible was being presented to Jamie G.! Everyone erupted in celebration.
Jamie was a little shy to have all the attention, but she was not shy to share that this was her first Bible, and the first Bible in her family.
Once she sat down and removed the plastic, marking that this book had never belonged to anyone else, she was given a permanent marker to write her name in the front page.
Jack Terrell, the founder and president of KiDs Beach Club®, said, "It was amazing the intensity that she took, and the deliberateness that she took, in putting her name for the very first time, in her Bible."
Jamie loves attending Beach Club with her friends because, "My friends and I can learn more about Jesus and we can spread the word to others that don't come to Beach Club."
Jamie was excited to receive a Bible, "So I can read it every night and tell my brother about Jesus." Jamie has a 10-year-old brother who also attends Gilbert Elementary and does not attend Beach Club. Jamie hopes she can get her brother to come with her to Beach Club soon. But she is ready and excited to use her Bible to share Jesus with her family at home.
The milestone of 50,000 Bibles being given away to children is monumental. We are also celebrating you, our donors, as we rejoice in knowing that to purchase those 50,000 Bibles, it took your generosity to provide those Bibles to children in public schools!
"God has blessed KiDs Beach Club® with some amazing, amazing donors who not only caught the vision of connecting kids to Christ by putting Bibles in their hands, but who actively participate in it with their generous gifts," Terrell said. "Our donors have given $1 million since 2003 to purchase 50,000 KBC Explorers Study Bibles which will continue to impact not only the lives of the kids who receive them but also their entire families.
"So to our donors, from the bottom of our heart, we thank you!"
Be sure to watch the video above until the end for a special message from KBC President & Founder Jack Terrell.
Published on Oct 17 @ 3:44 PM CDT