KiDs Beach Club® has several volunteers who go above and beyond the call of duty and many deserve to be recognized for their efforts. One such volunteer is Susan Jiura and she was recently recognized with the First Rate Living Extra Mile Award, given annually to people who are impacting youth in Arlington, Texas.
Jiura has led the Beach Club at Sherrod Elementary School in the Arlington ISD for 10 years. She has served an average of 60 students in Beach Club and leads a team of 16 adult volunteers who meet every Tuesday during the school year to worship, play games and guide children to experience Godly character qualities found in the Bible.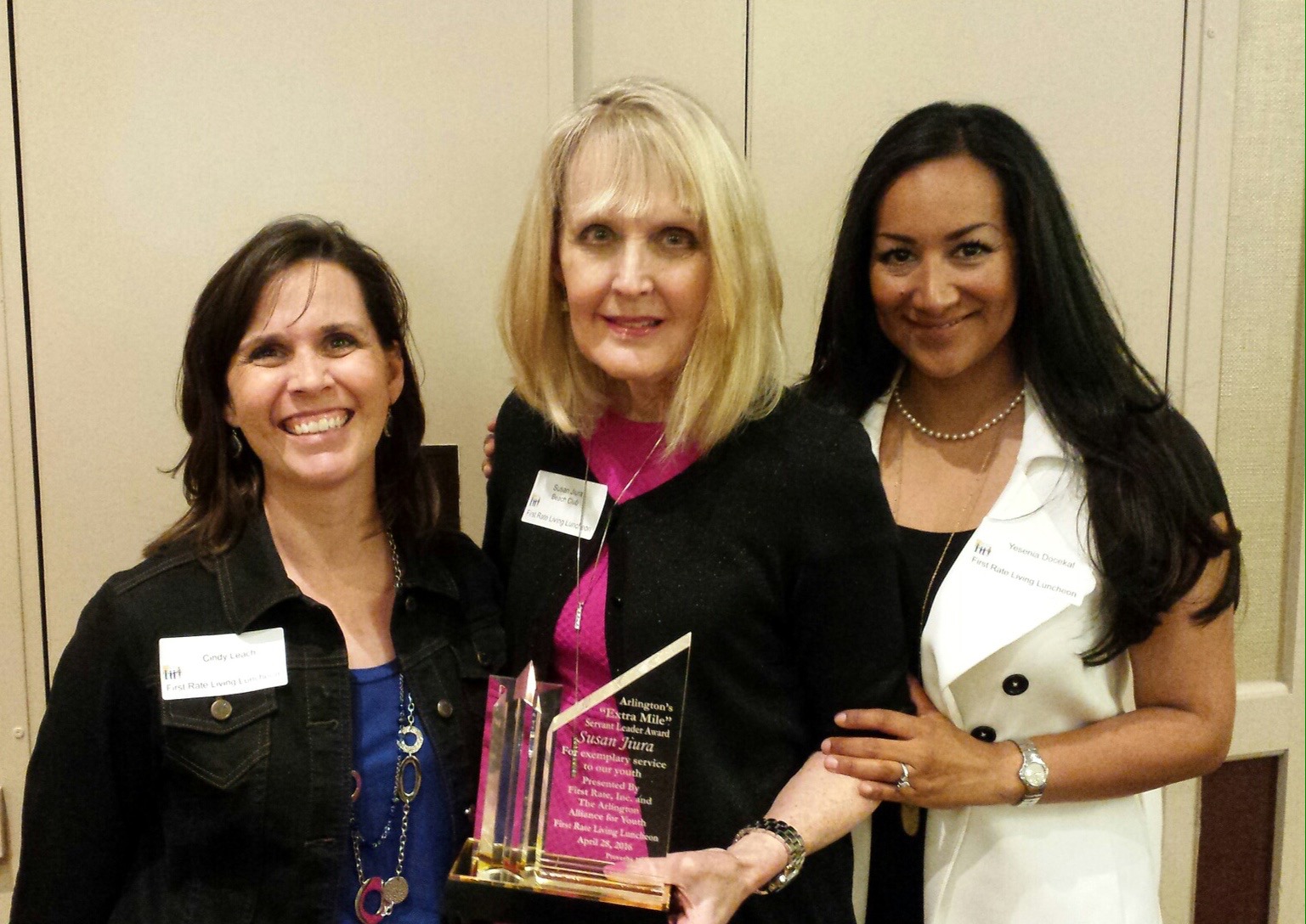 "Susan is an amazing servant leader who goes the extra mile in her role as Beach Club Director at Sherrod Elementary School," said Roger Sappington, the lead pastor for community and missions at Pantego Bible Church, which sponsors the club at the school as well as three others. "Susan has gone above and beyond as she has ministered to children and their families. In many ways, Susan is the unofficial chaplain and benevolence coordinator of Sherrod Elementary School. She has been there for children when they faced illness. She has mobilized others to help materially support families in the midst of financial crisis. Susan does whatever is takes to see students loved and cared for."
An active member of Pantego Bible Church, Jiura volunteers in many other aspects at the school and coordinated with Perfect 10 Charities to provide backpacks of supplies to all the students at Sherrod.
"I would like to thank the Beach Club of Sherrod Elementary, mainly Mrs. Susan for being a major encouraging factor in bringing me and my children nearer to the Lord," Greg Williams, whose three grandsons attended the club, wrote in an email. "From the day she came into our lives she has been a true ambassador for Christ, and a great friend to my family even after we have moved on to another school. I pray that God continue to strengthen and bless her in her following of Christ. The Lord loves her. We thank God for her and love her."
First Rate Living's mission is to love, give, serve and enjoy. David Stone, CEO and Founder of First Rate, along with his wife Trina, started their company with the desire to honor God by giving back to the community, specifically the youth of Arlington, Texas. First Rate Living supports many organizations that are making a positive impact in the community.
Jiura was presented a keepsake plaque and a $1,500 check as part of the Extra Mile Award. She plans to donate the monetary prize to the benefit of KiDs Beach Club®.
Jeff Williams, the mayor of Arlington, delivered the keynote address during the award ceremony. He highlighted ways youth are being positively impacted in the city of Arlington and challenged everyone that there is much more work still to be done.
If you know of other KBC volunteers who are being publically recognized for their service and contributions related to their impact on children, we would love to hear their stories, too. Please email them to us at news@beachclubs.org.
Published on May 26 @ 10:07 AM CDT