"I was about eight years old and after I prayed to receive Christ at KiDs Beach Club®, I began attending church," said Timothy Lowery, a former Beach Club student and current volunteer. "I would come into Beach Club every week and ask if I could have a part in the Bible story."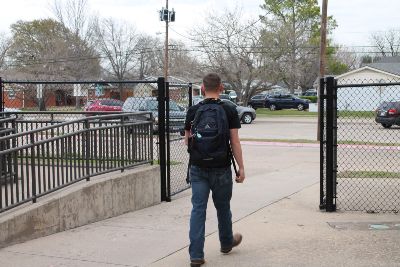 Timothy is a student at the Richland High School and walks about a mile to Holiday Heights Elementary school each week to volunteer at the Beach Club and because he also once sat in the same gymnasium to hear these stories just a few years ago, he has a special connection to the volunteers and students at the club.
"It's fun to see these kids here each week and to know that I was once sitting here not too long ago myself. By volunteering with Beach Club the last two years, I've realized that I would love to work in kids ministry someday," said Timothy. "KiDs Beach Club® provides a great opportunity for kids to learn and grow in Christ outside of church each week."
When Timothy began attending Beach Club as a child, he did not have a church home. During one of the gospel presentations, he prayed to receive Christ and asked the Bible teacher, Janet Bruner, if she would come out to the car to invite his dad to church.
"I walked out to the car to talk to Timothy's dad and he was hesitant at first, but I would invite him every so often to come to church and finally he did," said Janet Bruner. "They ended up coming to our Easter Eggsperiance at Center Point Church and over time his entire family came to Christ."
"We finally saw that God is with us as a family. Jana (Timothy's mom) and I have found out what it's like to be part of a church family, and most importantly HOW TO HAVE A RELATIONSHIP WTH GOD," said Terry Lowery, Timothy's father. "Every bit of this started with KiDs Beach Club®. We weren't getting off of our backsides and God used Beach Club and an 8-year old to get us back in the fold."
"Now when I see Timothy's dad, I can see the love of Christ all over his face," said Janet. "When you see the impact that KBC can make on a family, it makes it all worthwhile."
Read a letter from Timothy's dad on just how much KBC and Center Point Church impacted the family here.
Published on May 04 @ 12:29 PM CDT