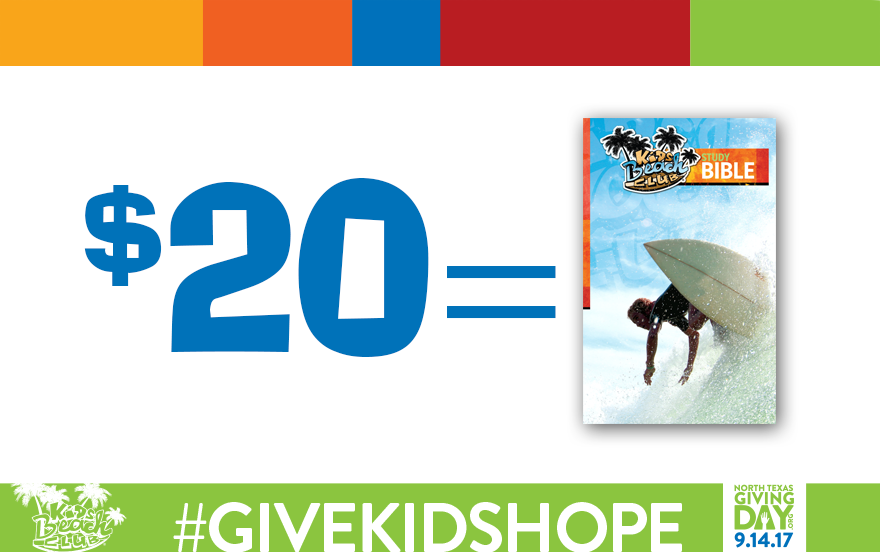 After your quiet time with the Lord on Thursday, September 14, when you close your Bible, would you consider providing a Bible for a child in a public school?
September 14 is North Texas Giving Day, when thousands of generous donors give back to their favorite charities in North Texas. It costs KiDs Beach Club® just $20 to put a KBC Explorer's Study Bible into the hands of a child and your gift that day will help provide a child the hope of a relationship with Jesus Christ in confusing time in our world.
This year, North Texas Giving Day has set up a way to schedule your $20 gift, as early as seven days in advance. Please go to kidsbeachclub.org/givingday beginning September 7 to schedule your gift.
The effects of Hurricane Harvey have put a real fear into the hearts of children along the Gulf Coast where we have 11 after-school Bible clubs. Their security and world as they have known it, has been shaken. When school resumes for the children in that region, our KBC volunteers will be ready to assure the children in those Beach Clubs that there is a sure foundation in Jesus Christ during times of uncertainty.
Those KBC volunteers represent nine partnering churches who are not only providing spiritual guidance to these children in public schools but are ministering to the physical needs of the families of Beach Club children as well. One of KBC's core principals is that we impact communities for God's Kingdom by equipping churches to minister outside the walls of their building and become beacons of hope in their communities, especially during disasters like this.
Your financial gift to KiDs Beach Club® on North Texas Giving Day will greatly help us continue to provide hope in Jesus Christ. A generous donor has already provided a matching gift of $4,000 so please go to kidsbeachclub.org/givingday beginning September 7 to schedule your donation.
Published on Aug 31 @ 2:02 PM CDT