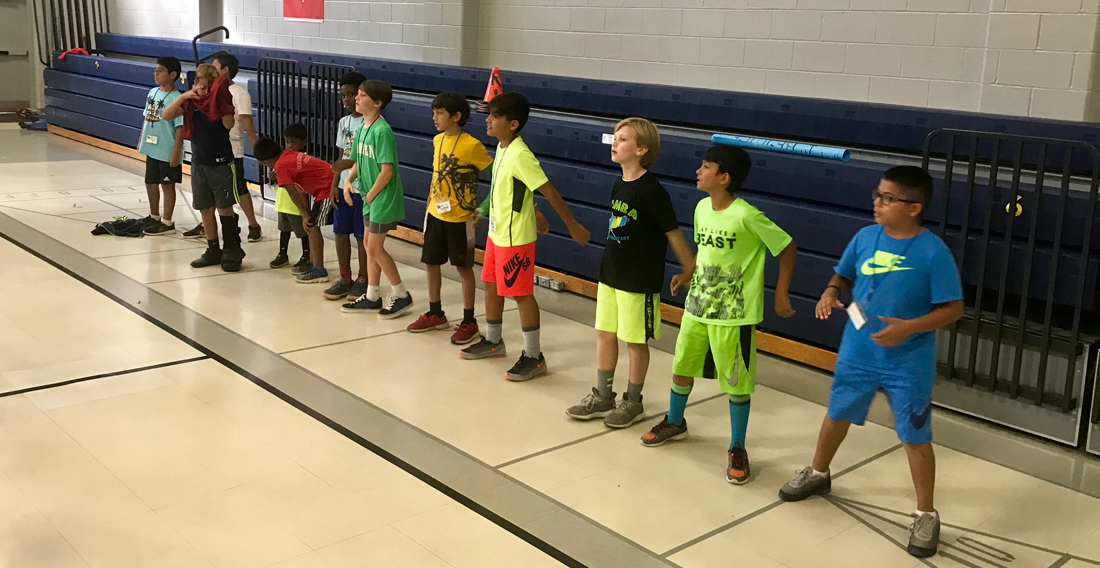 Rachael Wilson has been a faithful surf team leader for the past four years at the Beach Club at Wilson Elementary School in Coppell, Texas, which is sponsored by Coppell Bible Fellowship.
Two years ago, she was assigned a surf team of rowdy third-grade boys. Having a military background, the club leader thought Wilson would be the best fit to match their high amount of energy. Wilson ended up teaching the boys different phrases and practices that she used in the military to encourage them to pay attention and listen while in club. The boys loved it and caught on quickly.
That group of third grade boys turned their rambunctiousness into a passionate energy for the Lord! They soon grew into the largest surf team at Wilson Elementary. Wilson said they are a special group.
"They invite their friends and really keep track of each other to make sure they are at club," she said.
Coppell Bible Fellowship organizes their Beach Club so that the fifth-grade boys each year help lead worship. They stand up front to do the motions and sing, as examples to the rest of the kids. When Wilson's surf team of boys were in fourth grade, they had a deep desire to help lead worship. The fifth-grade boys at the time didn't mind letting the fourth-grade boys take their privilege, because the fourth graders cared so much about doing it.
Each boy is special to her in different ways.
"Thomas is the Bible encyclopedia of the group. He knows more detail of the Bible stories and I often ask him if there's any more facts he wants to add," Wilson said. "Noah accepted Christ at club and prays with boldness. Gonzalo puts things in little parables he relates to, to understand what we are talking about."
Wilson's favorite thing about volunteering is when the kids explain back what the lesson and the scriptures mean to them. She loves hearing how they can apply it to their lives and how they want to put it into action.
Wilson got to present them all with their very own KBC Explorer's Study Bible when they were in third grade. She was able to explain to them how the Bible is like our owner's manual. Like for a car, for instance, "the owner's manual tells you how to operate the vehicle and keep problems from happening. The Bible is in the same way, an owner's manual for life, showing how to live right and keep problems from happening. They were amazed they truly had a treasure!" she said.
"You can go through your day and feel like you didn't do anything important," Wilson said. "I look forward to those times solely talking about God and how He is acting in those boys' lives."
Wilson sent in her KBC Story through Instagram. Thank you for your willingness to serve and sharing your story with KiDs Beach Club®.
Hey volunteers, were you assigned a rambunctious group of kids at the start of club, and like Wilson, got to see God move in them at Beach Club? Or are you the Beach Club worship leader and had an extra special time at worship one club meeting?
We want to hear from you! Send in your KBC Story using the hashtag #MyKBCStory on social media or email us anytime at news@kbcmail.org!
Published on Nov 22 @ 9:13 AM CDT