Summer may be over, but your kids get to hang out at the Beach all year long – at least if they're in Beach Club. That's where kids hang out and find treasure; specifically, the greatest treasure – God's word. Every student in every Beach Club gets a Bible of his or her very own.
KiDs Beach Club® is an innovative ministry established to mobilize local churches to go outside their walls in order to take the message of Jesus Christ into the heart of their communities. Our vision is to provide every third- through sixth-grade boy and girl a Jesus experience within the culture of his or her public school. Principals, teachers and even superintendents are telling us that they are seeing a change in the culture of the schools that have a Beach Club.
This year, we are in a record 191 schools, sponsored by 156 church partners in 11 states. The local church in your community cares about you and your family enough to invest its time and energy by partnering with KiDs Beach Club® in your neighborhood public school.
KiDs Beach Club® partners with local churches in order to:
Impact Communities for the Kingdom
Share Christ in Public School
Foster Life Change in the Hearts of Children
Connect Families to a Church Family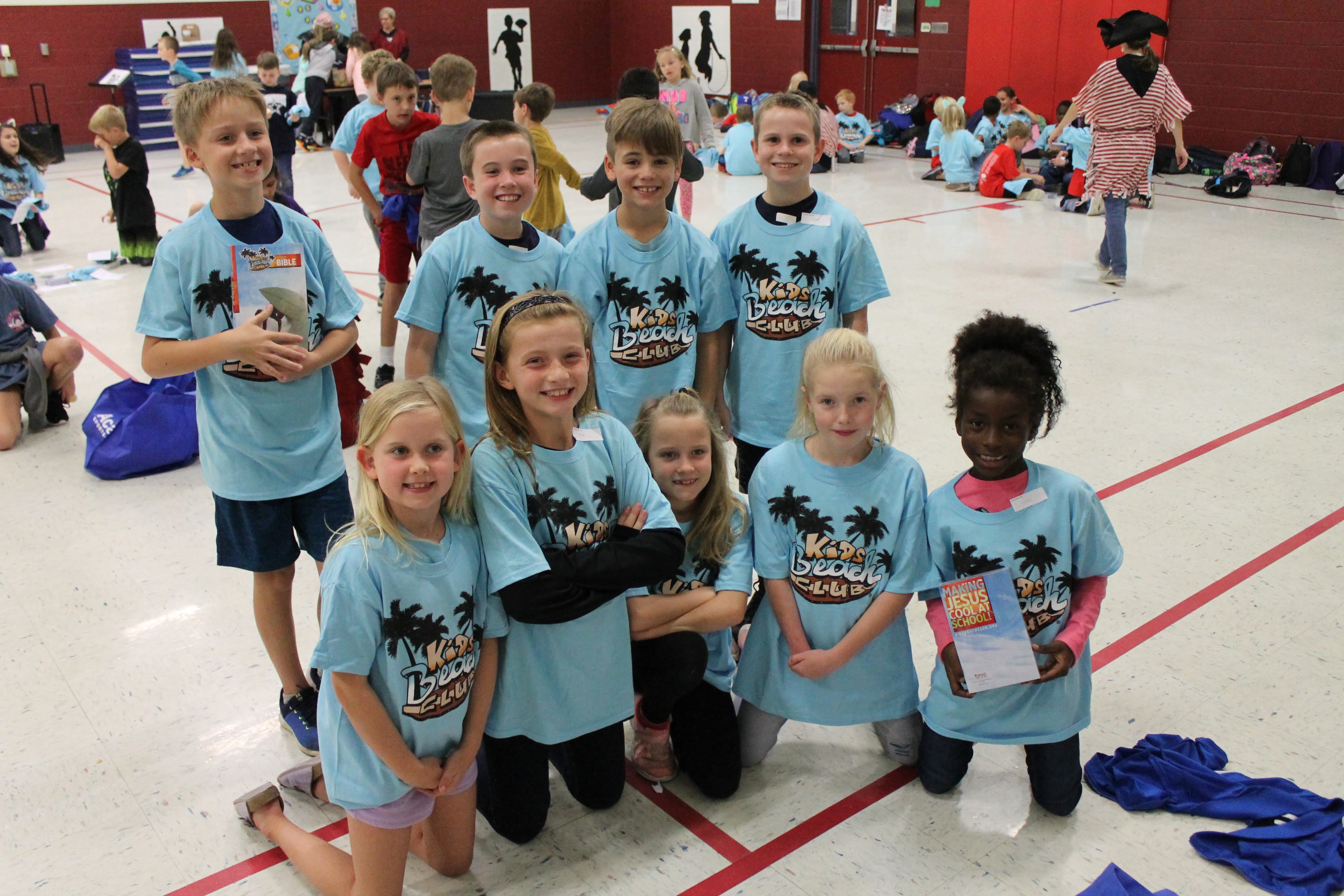 We have reached some significant milestones already this year. Since our ministry began in 2003, more than 105,000 kids have signed up for Beach Club, where nearly 22,000 volunteers have dedicated themselves to showing children the love of Christ every week in our public schools. To God's glory, nearly 9,000 children have come to make a profession of faith to have a relationship with Jesus Christ while in Beach Club.
Since 2003, KiDs Beach Club® has handed out Bibles to 61,549 children in public schools. In 2015, we started Great Treasure Day to give a KBC Explorer's Study Bible to every child in every Beach Club and since then, more than 40,500 Bibles have been distributed to kids at no cost to them, their parents or our partnering churches. We have been blessed by group of donors who passionately believe in getting Bibles into the hands of children and into their homes.
By connecting kids to Christ and putting Bibles in their hands, KiDs Beach Club® makes it possible for your local public school and your local church to work together in supporting kids and families like yours.
To find out which church partners with KiDs Beach Club® to sponsor the club at your child's school, please visit kidsbeachclub.org/find-a-club. If your family does not already have a church home, we hope you'll consider attending the church that sponsors your child's Beach Club.
At the same link, you also can find the dates your child's Beach Club meets, the date of Great Treasure Day, who to contact with questions and even a link to become a volunteer in your child's Beach Club. We have parents who volunteer in our clubs and you're welcome to attend Beach Club any time. We just ask that you reach out to the club leader ahead of time so he or she can provide your name to the school.
If you have any questions about Beach Club, please check out our website at kidsbeachclub.org. We also hope you will connect and engage with us on social media. We're on Facebook, Twitter and Instagram at @KiDsBeachClub. We're always looking for images and video of your kids in Beach Club or with their KBC Study Bible, so we hope you'll share those with us.
We pray we are able to make a positive impact in your child's life and to be a tremendous blessing to you and your family.
Published on Sep 27 @ 4:50 PM CDT